Around 70 participants representing local and international logistics stakeholders attended the CO-GISTICS final event and demonstration on 8 & 9 June 2017 in Trieste, Italy, one of the CO-GISTICS project pilot sites. Trieste is also the only pilot site implementing all five CO-GISTICS services which were shown to the participants during the live demonstrations on the first day of the event, departing from the Trieste-Ronchi airport, passing by the dry port (Interporto di Trieste – Fernetti), the port of Trieste and finally arriving to the event venue – Stazione Marittima.
Professor Walter Ukovich from the University of Trieste welcomed the participants as the event host introducing briefly the peculiarities of the Port of Trieste and the city.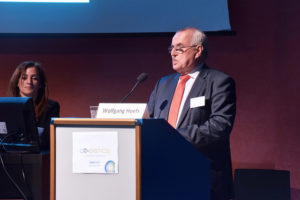 CO-GISTICS Project officer, Wolfgang Hoefs, Head of Sector "Strategic Planning and Communication", at the European Comission's DG CONNECT, opened the event with a keynote speech reflecting on the ambitions of the project and invited the delegates to investigate future possibilities for deployment in accordance with the upcoming EC work programme 2018-2020.
Other speakers of the first day focused on the benefits of cooperative ITS services from local authorities point of view as well as the logistics operators' and companies' perspective.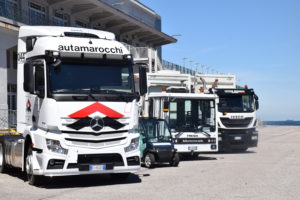 The second day of the event focused on the CO-GISTICS project in specific, presenting the different pilot sites, services and their technical properties, as well as exploitation opportunities. Participants had the opportunity to participate at the second mini demo offered on two vehicles showing CO2 Eco Drive Support (LCMM) service and Speed Advice (micro). The mini demo was a great opportunity to show the services in an urban area such as the centre of Trieste. The CO-GISTICS final event and demonstration showed a preview of the project final results after three years of work.
Full list of presentations is available to download below:
Day 1
Deploying Cooperative Logistics – The CO-GISTICS project – Eusebiu Catana, ERTICO – ITS Europe
C-ITS for intelligent hubs in Ports – Ivano di Santo, Trieste Port Authority
C-ITS benefits for logistics operators – Shirin Mahdavi, Interporto di Trieste,
C-ITS benefits for local authorities – Pablo Isusi, Bilbao city council
C-ITS benefits for logistics companies– Andrea Condotta, Codognotto
C-ITS interoperability and standardisation in logistics – German Herrero, ATOS
CO-GISTICS in the new era: TM 2.0 innovation platform – Laura Coconea, SWARCO Mizar
Day 2
Overview of CO-GISTICS pilots – Nicoleta Nita, Teamnet
CO-GISTICS Services impact assessment – Stefan Hennemann, HOLM
Commercialization potential for cooperative freight transport services – Iraklis Stamos, IRU projects
CO-GISTICS Services in real life – André Perpey, Geoloc Systems
CO-GISTICS Services in Trieste – Giorgio Iacobellis, POLIBA
Click here to see all the photos of the final event and demonstration!