CO-GISTICS project was present at this years' ITS congress in many forms. A dedicated session to the project and deployment of C-ITS for logistics, outdoor live demonstrations showing two CO-GISTICS services and three technical/scientific papers presented during the paper sessions. Follow the sections below to read about CO-GISTICS activities last week in Strasbourg.
Conference sessions
A session regarding the services deployed by the CO-GISTICS project took place during the last day of the ITS European Congress in Strasbourg. During this session, several experts in optimisation of goods movement in urban and suburban areas reported the results in logistics operations' increasing efficiency thanks to the CO-GISTICS services, implemented in 7 logistics hubs, some of them also part of the COMPASS4D project network, which has tested similar services for passengers.
To read the full report of the session and see more photos click here.
Demonstrations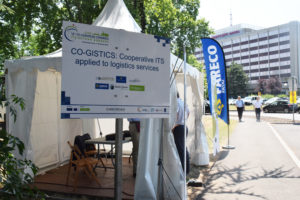 CO-GISTICS showed a Cooperative ITS interoperability with a demonstration of 2 services: Speed advice (also called GLOSA) and Cargo Transport Optimisations.
The demo was also  interoperable with another GLOSA application developed in the frame of the European MOBiNET project by Dynniq.
More information and photos are available here.
CO-GISTICS technical and scientific papers
Three CO-GISTICS papers were presented during the ITS Congress in Strasbourg in the session TS08 on Freight and logistics tools.
Jose Maria Salanova Grau of the Centre for Research and Technology (CERTH) from Greece, presented two papers entitled Impact assessment of cooperative services for freight transport and A methodological approach for a Cost-Benefit Analysis of cooperative freight transport services. Iraklis Stamos of IRU Projects presented the findings of 46-item questionnaire addressed to truck drivers, commercial fleet operators and managers, regarding their trust on cooperative freight transport services and their willingness to invest on them as well the respective expectations they might have out of services, such as the ones piloted in within the CO-GISTICS project.
Continue reading the report here.