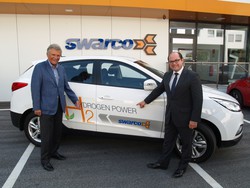 On Wednesday 17 June the first hydrogen fuel cell vehicle was handed over to the a non-institutional customer in Austria.
The Hyundai ix35 FCEV, the first mass-produced hydrogen vehicle in the world, was bought by the well-known Tyrolean entrepreneur Manfred Swarovski, owner of Wattens based SWARCO AG. SWARCO is one of today's leading providers of products, systems and services for road safety and intelligent traffic management.
This ix35 FCEV is one of 7 vehicles of the EU project HyFIVE (Hydrogen For Innovative VEhicles), which will mainly be found in Tirol, on the hydrogen motorway of the EU Green Corridor between Munich and Verona.
"The mobility of the future has become reality. Our goal is to get another 35 cars on this motorway next year," says Roland Punzengruber, managing director of Hyundai Import GmbH and adds: "The Federal State of Tirol promotes hydrogen mobility as part of its Tirol 2050 energy strategy: This means, for example, that thanks to the financial support of the Federal State every Tyrolean can rent a Hyundai ix35 FCEV for 40 EUR a day at our Denzel-Unterberger dealership in Innsbruck for one-day test drives.
In addition, the Federal State of Tirol supports test trips accompanied by Dr. Ernst Fleischhacker from FEN Sustain Systems GmbH for people and businesses interested in hydrogen technology. The destination of these trips is the Hydrogen Center of Dr. Walter Huber at the Institute for Innovative Technologies in Bolzano.
Newly-fledged Hyundai owner Manfred Swarovski: "For me electromobility is already reality. With the first hydrogen gas station in Innsbruck an important step for the development of an H2 infrastructure was made. It is likely that in the future the convenient zero emission vehicles of the type Hyundai ix35 FCEV will be more common on the highways of Tirol."
Original source: Swarco