Don't miss you seat for the CO-GISTICS Final Event & Demonstration Cooperative ITS Deployment in Logistics Hubs taking place at Stazione Marittima, in Trieste, Italy on 8 & 9 June 2017.
Event
The conference, which will take place over two half days, is an opportunity to learn about CO-GISTICS project results and to experience live demonstrations of cooperative ITS applications for logistics. The event will kick-off with a demonstration tour and continue with the opening session at the venue, including presentations by public authorities and private parties.  Project results will be presented as well as discussions on the exploitation and future developments of CO-GISTICS. A second live demonstration with demo trucks will take place in a protected area next to the conference location on the second day as well as an simulated indoor demonstration.
Demonstration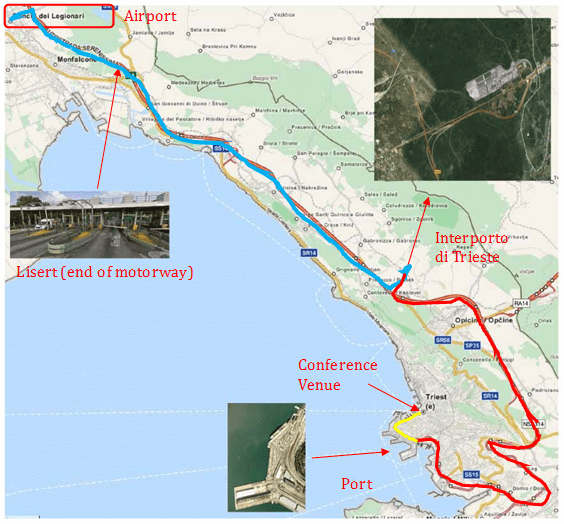 The idea is to provide event participants with a live demonstration of C-ITS logistics services in action in the pilot site of Trieste. For this reason,  the demonstration will start at the FVG Airport in Ronchi, which is also very close to the highway and is used by trucks involved in CO-GISTICS services in Trieste, coming from Austria and going to the  Interporto di Trieste Terminal and then to port of Trieste. The participants will be taken to Trieste by two coaches that will follow exactly the same route as the trucks. The demonstration will be divided in three parts in order to show live as many services as possible.
The draft agenda is available here.
More information can be found on the CO-GISTICS website.