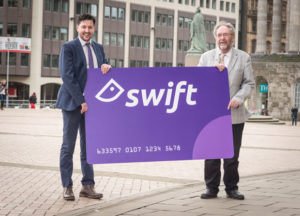 Transport for West Midlands is switching all 9000 rail customers on its nTrain direct debit scheme from paper tickets to its 'Swift' smartcards from this week.
This milestone for the region's smart ticketing programme means 12,000 customers will soon use Swift on rail in addition to the 130,000 who already use the cards on the West Midlands' bus and tram networks.
The switchover process will take approximately four weeks in total, with customers to receive their new Swift cards when their current monthly or weekly season tickets automatically renew.
To read the full story, please click here.
Source: ITS UK