The Automated Road Transportation Symposium (ARTS) celebrated last week its 11th edition in Garden Grove, California. The congress gathered industry thought representatives, public administration and research centres to discuss the steps to follow in the path towards transport automation. Dr Stephane Dreher, Senior CCAM Innovation & Deployment Manager at ERTICO, co-organised two breakout sessions and presented on testing, data collection and the digital infrastructure supporting automated mobility. In addition to ERTICO's public-private cooperation initiatives, he discussed European data-related R&I experiences and policy developments.
This year's ARTS22 edition (18-21 July) focused on such crucial aspects as safety and research, as well as public acceptance, legislative and regulatory affairs for Automated Vehicles (AV). ERTICO participated in session 335-AV Testing & Data Collection, which presented worldwide advancements in automated vehicle testing and data collection frameworks. Dr Dreher presented some of Europe's data sharing leading policies: the European Data Strategy, aiming to create a single European market for data, and the ITS Directive, supporting data access since 2010 and currently under revision.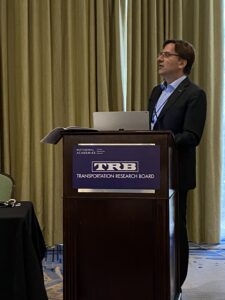 He also presented some CCAM-related initiatives driven by ERTICO that support data sharing in Europe, such as the EU-funded project ARCADE creating a Data Sharing Framework, giving hands-on recommendations to enable data re-use and sharing. The follow-up project FAME, recently started and coordinated by ERTICO, will build on the Data Sharing Framework and the collection of evaluation methodologies. Dr Dreher also introduced the Data for Road Safety (DFRS) initiative as an example of successful public-private cooperation to enhance road safety. This EU collaborative platform brings OEMs, service providers and road authorities together to create a Safety Related Traffic Information (SRTI) ecosystem to reduce road casualties.
Finally, the Trilateral EU-US-Japan Working Group on Automation in Road Transport (ART) gathered at the conference, exchanging R&I cooperation opportunities between the three regions. ERTICO supports the European Commission for the EU contribution to Trilateral cooperation in the frame of the FAME project.