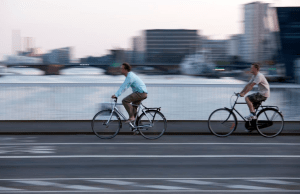 Three Danish cities have received over 9 million Danish krone (€ 1.21m) to develop cycling infrastructure.
Odense, Faaborg-Midtfyn and Middelfart received the funding from a 235 mn krone (€ 31.5 mn) national transport fund which aims to build bicycle infrastructure, strengthen rural public transport and increase the use of buses across Denmark.
Middelfart received 3.4 mn krone (€ 456 000) to build cycle lanes separated from pedestrian and traffic routes, and develop service facilities for cyclists. The route will be linked to the city of Fredericia in Jutland through an existing bridge. Faaborg-Midtfyn received 3.2 mn krone (€ 428 000) to build a two-way route to Odense via the neighbouring town of Årslev.
The path will be illuminated with eco-friendly LED lighting. Odense has 2.46 mn (€ 330 000) to improve municipal cycle paths, such as implementing non-slip coatings on surfaces and solar-powered lamps along routes. 'There is enormous potential to get even more Danes to commute by bicycle,' said Magnus Heunicke, Denmark's Minister for Transport. '
We have in recent years repeatedly seen how cycle highways get people onto their bikes, and therefore it is important we continue to make it easier to commute or get to public transport by bicycle in this way.'
Original author: Lewis Macdonald
Picture: @VisitCopenhagen (Twitter)