The 2018 edition of the Transport Research Arena (TRA) conference took place from 16 to 19 April at the Reed exhibitions Messe in Vienna, Austria. The event was an exciting opportunity to meet not only logistics stakeholders but also other important players in the transport industry who presented their latest research on the topic  "A digital era for transport" during the four days of the conference.
AEOLIX participated at the event with many activities. AEOLIX shared a booth in the exhibition area with other logistics innovation projects such as SELIS, NOVELOG, LEARN  and many more, presented under the stand of the ALICE Alliance. The booth served as a meeting point between the project representatives and all interested in the initiatives where the delegates could talk to the project partners and have a look at the project posters.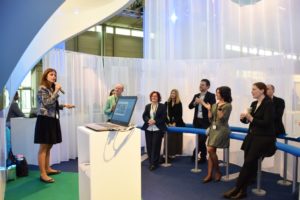 During the morning of Tuesday, 17 April, Lina Konstantinopoulou, coordinator of the AEOLIX project and Head of Transport and Logistics, Innovation and Deployment at ERTICO-ITS Europe, presented AEOLIX at the European Commission stand and explained the need for a harmonised data sharing network for overcoming today's fragmentation in the logistics sector. In the afternoon Lina also participated in the Systems and Technologies towards the Physical Internet session where she again presented the insights of the AEOLIX project as the paper written by several AEOLIX partners. Other logistics initiatives such as SELIS and Terminal 4.0 have also been presented during the session that welcomed many interested delegates in the topic. During the same afternoon, Iraklis Stamos from IRU Projects, also presented his poster in the dedicated poster area at the conference. Iraklis focused on the business insights and models of innovative logistics services such as AEOLIX.
On Wednesday, 18 April, ALICE stand was busy with many presentations by EU funded R&I projects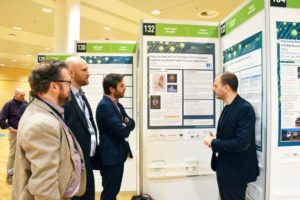 showcased at the booth. German Herrero, ATOS presented the more technical aspects of the AEOLIX open ecosystem for logistics information exchange and co-operation. German explained the AEOLIX network architecture and main components of the platform. Iraklis Stamos presented his 2nd poster "What do Data tell us? The story of the European Logistics and Road Freight Transportation Sector" where he presented the numbers of the logistics market and road freight transport specifically.
Last of the TRA conference was also the last day of AEOLIX presentations. This time AEOLIX was presented by Marcel Huschebeck and Florian Krietsch of PTV presented the AEOLIX toolkit and services to the conference delegates at the ALICE booth.