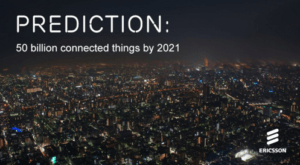 Ericsson and China Telecom group (China Telecom) signed a MoU to jointly build global Internet of Things (IoT) connectivity and offer one-stop global IoT connectivity service to enterprise customers through Ericsson Device Connection Platform (DCP). The MoU was signed at the China Telecom Tianyi Terminal Expo on July 15.
According to the MoU, the partnership, initially covering a five-year period, will provide IoT connectivity services to China Telecom's enterprise customers globally.
DCP is a cloud-based IoT platform that will enable China Telecom to offer enterprises IoT device deployment and help customers manage IoT products efficiently and flexibly. Enterprises will be able to access China Telecom's network efficiently and seamlessly.
Tongqing Gao, vice president, China Telecom, says, "DCP enables operators to cooperate globally to provide IoT device management, subscription management, network connectivity administration and flexible billing services. Therefore, the customers can seamlessly deploy and manage their IoT devices globally in order to ensure globally unified service procedure, consistent user experience, significantly improving efficiency and reducing the cost."
Juntao Zhao, President of Ericsson China, says, "IoT is a rapidly changing area. By 2021, we forecast there will be 28 billion connected devices worldwide, of which 16 billion will be IoT connected devices. These IoT applications will help promote the development of 5G technology. This partnership with China Telecom aims to accelerate the large-scale deployment of IoT across the world."
With the development of mobile "Internet+", IoT services have already transformed from the communication between objects to open interconnection of all things. Global original equipment manufacturers are proposing more specific requirements on IoT, such as a global consistent management platform, simplified interfacing of global operators, as well as simple and convenient business support capabilities. Ericsson DCP is used by over 20 global operators to provide IoT connectivity services, serving more than 1500 enterprises across 100 countries.
Source: Ericsson