The opening ceremony of the European Startup Prize for mobility, 4th edition, takes place tomorrow, 30 September, in Tallinn, Estonia. ERTICO is helping to kick off the event – Join us! 
The European Startup Prize for Mobility (EUSP) programme, which was launched in 2017 by Karima Delli, Chairwoman of the European Parliament's Committee on Transport and Tourism, Boston Consulting Group and Via ID, is founded on public-private collaboration involving major EU institutions (European Parliament, European Commission, European Investment Bank, EIT InnoEnergy, GSA, SESAR, Shift2Rail) and major mobility corporations and tech giants. ERTICO has been an active supporter of the Startup initiative ever since it came into being as an acceleration and investment programme to support and scale up smart and sustainable mobility Startups.
Connect, Innovate, Grow
ERTICO's own Startup initiative supports startups in their growth, allowing them to connect with the European ITS industry stakeholders, co-creators and partners in many ERTICO led European projects. In October 2021, the ERTICO startup initiative is co-hosting the startup exhibition programme at the ITS World Congress in Hamburg. Under its motto Connect, Innovate, Grow, the programme will include startup pitches, mentoring tours, and match-making opportunities for start-ups from around the world. The ERTICO startup initiative collaborates with different incubators in Europe and participates in many projects that support startups globally.
Tomorrow, Thursday 30 September, Carmela Canonico, Manager of Innovation and Deployment at ERTICO will represent the organisation as part of the European sustainable mobility ecosystem at the opening ceremony. The hybrid event, which officially launches the call for applications, will be broadcast live (6 pm-7:30 pm) on the FB page of the Brussels Times and on a dedicated webpage on the Brussels Times site.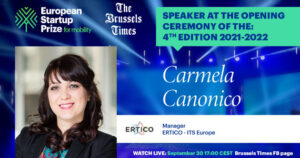 'For the 4th year in a row, ERTICO is supporting the Startup prize for mobility, and I am excited to attend this year's grand opening ceremony. I am especially looking forward to hearing from the startups and meeting the 10 winners of this edition in March 2022′, says Ms Canonico.
The application period for the 4th edition of the EUSP will remain open until 30 November 2021. There are great prizes to be won by the top 10 entries and a number of special prizes are well. ERTICO will once again be helping Startups make the most of this great opportunity to gain visibility, investment, mentoring and advocacy. Join us!