ERTICO has the pleasure to present Onsite Data Intelligence, an innovative start-up that offers a pioneering product: a portable IoT (Internet of Things) module system integrated in K1 baseplates. The K1 baseplate is an infrastructure item that is often used on roads to hold traffic signals.
Onsite Data Intelligence, winner of ERTICO's "Start-up with the best Product Innovation" award at the 2021 ITS World Congress in Hamburg, offers a simple idea: integrating smart and connected elements into portable road elements. By inserting sensors, actuators, batteries, a CPU and a GNSS (Global Navigation Satellite System) into a K1 baseplate – an element of road infrastructure that has been extensively employed and tested on different road scenarios – Onsite Data Intelligence creates an extensively deployable and connected system that collects and transmits data to different groups of consumers.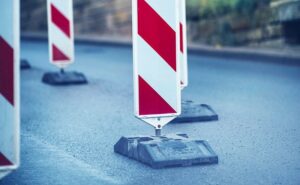 K1 Baseplate, Copyright Onsite Data Intelligence
Smart and connected road elements
Onsite Data Intelligence upgrades road infrastructure and transforms baseplates into portable, flexible and integrated IoT modular system. In line with the "Internet of Things" concept, data is collected, processed and transmitted almost without any additional effort to various consumers, i.e. public authorities, traffic information service providers, and so on.
The so-called IoT Baseplate can be used very simply, in all types of environments and traffic conditions. Its "plug & play" function does not require any cable connections and, depending on the application, functions autonomously for several months or even years, considering the extended battery combined with intelligent energy management.
IoT Baseplate BOX, integrated into the K1 baseplate, contains all the necessary IoT components: each baseplate is fully equipped to function as a gateway and includes edge computing features.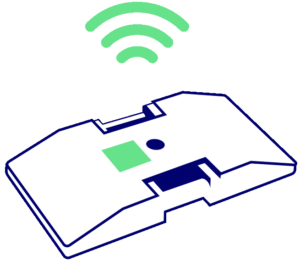 IoT Baseplate BOX, Copyright Onsite Data Intelligence
The IoT Baseplate to foster smart mobility
The target group for IoT Baseplate service is composed of traffic administration, traffic management and infrastructure operators that are eager to deploy innovative solutions and to accelerate on digitalisation, smart mobility and smart cities. These groups belong both to the public and the private sectors. With IoT Baseplate, public and private operators can easily collect current traffic data, monitor and document the position and condition of their infrastructure elements, react quickly and efficiently. IoT Baseplate includes a dashboard for monitoring, controlling and visualising a range of analysis tools, which makes it simple for consumers to operate with the collected data.
Onsite Data Intelligence focuses particularly on providing transparent data to allow effective evaluation and planning of pedestrian and bicycle traffic. In the medium term, this Austrian start-up expects IoT Baseplate to become a fundamental mobile element for connected and automated vehicles. IoT Baseplate will thus contribute to achieve the European Union's sustainable mobility goals, which include safety and efficiency in daily road traffic and mobility.
As outlined in its 2019 Staff Working Document "EU Road Safety Policy Framework 2021-2030", one of the European Commission's long-term goal in the context of road safety is to move close to zero fatalities in road transport by 2050. This ambitious achievement requires the cooperation of many different stakeholders, such as public authorities, research centres and universities, the private sector, etc. IoT Baseplate has the potential to sustain and facilitate such cooperation.
Innovation for the city of tomorrow
Onsite Data Intelligence was founded in February 2021 by Klaus Heimbuchner, Markus Dorn, Helmut-Klaus Schimany and Stephan Jung after several years of preparation and studies. In 2022, the Austrian city of Graz became the first pilot site for the start-up's service. "Promising agreements are underway with several other cities and countries, primarily in Austria and Germany. In addition, Onsite Data Intelligence was able to conclude strategic partnerships with numerous market leaders in the ITS and infrastructure sectors. We won the 'IÖB Mobility Call' award of the IÖB Service Agency for Innovative Public Procurement in Austria in November 2022," says Dr Heimbuchner.
Initiatives like Onsite Data Intelligence's one are means to accelerate and innovate in such a sensitive context as road safety. Elements that provide real-time data and allow stakeholders to conduct analysis to intervene timely will have beneficial effects on building smart cities and smart mobility.
To obtain significant improvements in road safety for all kind of road users across Europe, different stakeholders need to combine their work in order to develop and employ new solutions. For example, partners of one of ERTICO's innovation platforms, Data for Road Safety (DFRS), are working assiduously to develop innovative solutions in road data sharing.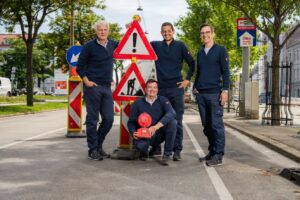 Onsite Data Intelligence team, Copyright: Onsite Data Intelligence / Skokanitsch