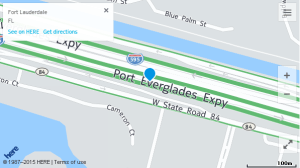 Reversible express lanes are used to ease congestion during rush-hour in large cities. These lanes sit in the center of large highways and create extra lanes to drivers in one direction or the other. HERE Traffic is the first digital service to give information on which way they're pointing in real time.
While reversible lanes are designed to create extra volume where and when it's needed, it's not always easy to find out which way they're flowing before you get to them. Many drivers would make a different route choice based on the number of express lanes going their way. Instead, they end up either pleasantly surprised that they have the option of an extra lane available to them, or frustrated, when it's flowing the other direction.
The update is available immediately across all HERE offerings. People using HERE for Android, HERE for iOS, Amazon Fire Phone, Bing Maps or driving a car powered by HERE Traffic will automatically see this new features without doing anything. Developers building their own map app can use the HERE API to include this feature too. Drivers in 12 cities can make more intelligent routing choices and ultimately reach their destinations more quickly. They will also be able to see the direction that is currently open on the map display and manually plan their route.
Joe Ciprian, product manager for reversible express lanes at HERE, says: "Our driving mission at HERE is to create the best maps possible. This adds another layer to make our maps that much more accurate and precise."
To read more about it, visit 360.here.com
*Image: Ken Lund