ERTICO – ITS Europe released on 16 September a study supported by ACEA on the potential contribution of ITS measures to reducing CO2 emissions for passenger cars. Results of ITS4rCO2 were presented at the Frankfurt Motor Show (IAA) during the European Automobile Manufacturers' Association (ACEA) press conference. Carlos Ghosn (ACEA President), with Erik Jonnaert (ACEA Secretary General) and Hermann Meyer (ERTICO – ITS Europe CEO) were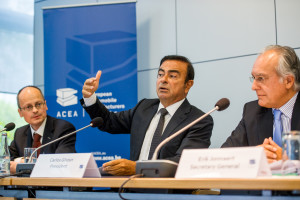 in charge of unveiling the conclusions of this study.
ITS4rCO2 focuses on in-vehicle applications which use data to build estimation or prediction in order to either guide the driver or control the vehicle in some way, and also on ITS related infrastructure measures which can reduce CO2 emissions of cars.
According to the study, in-vehicle eco-navigation systems (dynamic navigation tools that use real-time data to reduce fuel) have a 5-10% emissions reduction potential. Eco-driving systems – which recognise driving behaviour and provide the driver with on-trip advice and post-trip feedback – can bring down emissions by 5-20%.
Regarding infrastructure, the two highest-potential measures are traffic signal coordination and parking guidance. Giving drivers real-time advice on traffic signals and guidance to find a parking space could produce a further 10% savings in CO2 emissions for equipped vehicles in the areas where these systems are deployed.
Currently new vehicles (less than one year old) represent only about 5% of the total EU car fleet, and the average age of cars is 9.7 years and rising. "With this in mind, the study's findings make a clear case for a faster renewal of the fleet, so that we can bring more vehicles with the latest technologies to the street faster," Mr Ghosn stated. "But connected vehicles and faster fleet renewal will not be enough. ACEA is therefore also calling on policy makers to invest more in appropriate infrastructure improvements."
As ITS systems rely on the collection, use and process of data from different sources, including from the vehicle itself, they also raise the challenge of data protection. Recognising the concerns around this subject, this morning ACEA's Board adopted a statement setting out five principles of data protection to which the industry will adhere.
Download the document here
For more information, read ACEA's press release here.