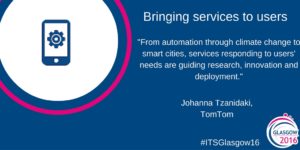 Bringing services to users is one of the highlights of this year's ITS European Congress. Johanna Tzanidaki, Director of Public Affairs from TomTom explains the importance of innovation guided by
user's needs and what attendees can expect from the various sessions and discussions dedicated to the topic.
'Delivering Future Cities Now' as the Congress is themed, puts Services to Users on the spotlight of ITS-related pioneering work.
ITS Congresses have traditionally aimed at bringing users and ITS service providers together and at stressing the relevance of ITS for innovation in our everyday lives. From automation , space technologies and sustainability to climate change and rural communities and smart cities, services responding to users' needs are guiding research, innovation and deployment. Intelligence in transport systems is all about mobility of people and goods. Large scale deployment of ITS services optimises time and space for business, public authorities and individual users towards achieving their goals.
More specifically, mobility schemes such as MaaS and traffic management concepts such as TM 2.0 or HAD Maps so much needed for automated driving are only few of the ITS-based services that enhance the quality of life of users while at the same time support growth and business development. The future is now and the plethora of ITS services already on offer should and will be communicated, exhibited, discussed and debated during this ITS Congress. At the same time, the seeds for taking the next steps will be planted by both service providers and users of ITS.
What can attendees expect from this topic?
The exhibition of services and products on all areas related to ITS along with the gathering under 'one roof' of over 2500 ITS stakeholders, decision makers, professionals and users, make the ITS Congress the ideal location to initiate discussion, debate ideas, forge partnerships and become acquainted with what ITS has to offer today and in the future. There is simply no other event that brings together the ideas and the deployment in such a constructive way. Special sessions, Executive sessions, and plenary discussions are the best way to hear, learn and 'take on board' future plans and trends in ITS. Decision makers can explain what service and technology providers can expect and vice-versa. A unique opportunity for ITS-people.
Click through to read more about the topics this year's Congress will cover or view the interactive timetable!
The post ITS innovation in everyday life – Bringing services to users appeared first on ITS European Congress 2016 – Glasgow.