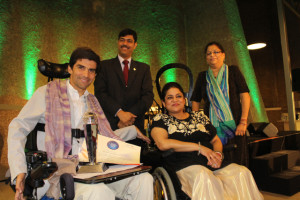 Lisbon and Porto have won awards for their efforts to improve the accessibility for people with physical disabilities.
The Portuguese cities were announced as winners of the Svayam Accessibility Awards 2015 during the 14th TRANSED conference held in Lisbon, one of the largest forums on accessibility and mobility.
Porto designed an online journey planner that calculates the most accessible routes for people with reduced mobility. It gives information not only about paths but also intermodal transportation connectivity, and the accessibility of important public buildings and spaces.
Lisbon was awarded for its Pedestrian Accessibility Plan, which is expected to be completed in 2017. The Plan aims to prevent the creation of new barriers; progressively adapt existing buildings; and mobilise the community to create a city for everyone.
A Portuguese non-profit accessibility organisation, Associação Salvador, won the final award, for its online guide which provides information on accessible routes, spaces and venues around the country for people with physical disabilities.
The Svayam Accessibility Awards were instituted in 2010 to promote the concept of accessibility and universal design for livable communities in both rural and urban areas.
The awards are conferred on organisations in the TRANSED hosting nation that show consistent commitment towards providing accessible infrastructure for all.
Image source: Svayam's Blog