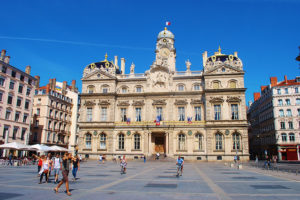 The council of the city of Lyon has adopted a four-year action plan for active mobility that will focus on improving facilities for walking and cycling. The plan, adopted earlier this month, has a budget of € 160 million and will run from 2016 until 2020.
The city hopes to increase the cycling network from its current total length of 600 km to 1 000 km, and encourage residents to walk more – from an average of 650 m to 1 km a day – by 2020.
To help achieve these targets, Lyon is planning to pedestrianise roads, create promenades and walkways and make pedestrian crossings safer. Greater Lyon will also boost its Vélo'v bike system by strengthening coverage in the city centre and extending it to other municipalities.
Vélo'v is already the most popular self-service bicycle system in France, with 348 stations, 4 000 bikes and 64 000 subscribers. Additional measures include introducing a financial incentive for buying electric bicycles, creating 10 000 new bicycle-parking spaces, quadrupling secure parking at Park-and-ride facilities, and setting up bike-service stations with self-repair workshops.