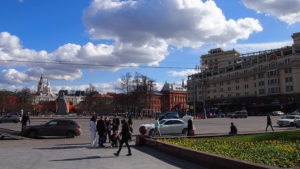 Transport ministers to honour achievement of Russia's capital city at global summit in Germany on May 19
The city of Moscow has been awarded the 2016 Transport Achievement Award for its exemplary approach to improving traffic conditions in the Russian capital. The prize is awarded by the International Transport Forum (ITF), a Paris-based intergovernmental organisation and policy think tank with 57 member countries.
Following twenty years of almost uncontrolled development of urban traffic, the city of Moscow introduced a rigorous and comprehensive set of policies to address the gridlock on its streets. Over the past five years, these measures have reduced the number of cars in central Moscow by 25% and increased the average speed of traffic by 12%, despite 600 new cars being registered in the agglomeration each day.
In 2013, Moscow traffic was ranked as worst in the world by the TomTom Traffic Index. In the 2016 edition it has improved to fifth place in that index.
The ITF jury recognized the "impressive achievement in improving overall traffic in Moscow." In particular, the jurors highlighted "the effectiveness of coherent, coordinated initiatives and policy actions that facilitated this remarkable change."
Original source: ITF