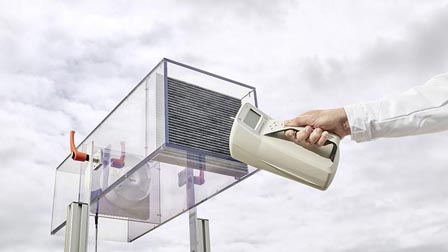 Did you know that sneezing while driving at 95 km/h may result in "driving blind" for up to 20 metres? Ford has introduced to vehicles a new air filtration system that blocks almost all nitrogen dioxide – a key trigger of asthma – up to 99 per cent of pollen, and gaseous pollutants and odours.
The technology is a breath of fresh air for drivers and passengers. During testing, Ford found that concentrations of nitrogen dioxide and particle concentrations inside the car were equal to or lower than was the case outside the car in rural locations – even when test vehicles were driven in the city, on the motorway, in traffic jams and through tunnels.
Advanced air filtration is among a range of Ford innovations designed to make journeys safer, smarter, and more comfortable by enhancing the driver's sensory experience. Ford European Research & Innovation Centre, Aachen, Germany, which this year celebrates its 20th anniversary, is where many of these advanced innovations first see the light of day.
"At Ford, we aspire to improve people's lives through innovation, whether it be advanced lighting technologies that better highlight potential dangers or an advanced filtration system that pumps ultra clean air into the vehicle's cabin," said Ken Washington, vice president, Ford Research and Advanced Engineering.
The new air filtration system introduced in the all-new Mondeo, S-MAX and Galaxy utilises activated charcoal – similar to advanced gas masks, respirators, and spacesuits.
The air quality sensor detects carbon monoxide and nitrogen dioxide levels outside the car and shuts down incoming air. As required, it also automatically switches on the advanced filtration and air recirculation. The new filter is 50 per cent more effective than its predecessor at blocking ultra-fine particles that are more than one thousand times smaller than the width of a human hair.
More than a quarter of Europeans suffer from hay fever, and sufferers are a third more likely to be involved in a collision.
"Ford's filtration technology is of a quality one would only usually expect in luxury cars. The team drove test vehicles in areas of heavy congestion and concentrated pollution, such as tunnels and urban areas to prove out the system," said Volker Scheer, technical expert, Environment and Health, Ford of Europe.