ERTICO – ITS Europe has released a study on the potential of ITS measures to reduce CO2 emissions for heavy commercial vehicles (with a diesel internal combustion engine) as well as to increase their safety. The study, supported by ACEA – the European Automobile Manufacturers' Association – covers trucks and buses, focusing on in-vehicle applications and infrastructure or back-office ITS services which impact the vehicle.
The headline results were presented by ERTICO's CEO Hermann Meyer at an ACEA press conference together with Erik Jonnaert (Secretary General of ACEA) and Martin Lundstedt (ACEA Commercial Vehicle Board Chairman and CEO of Volvo Group) at the IAA Commercial Vehicles show in Hanover on 21 September 2016.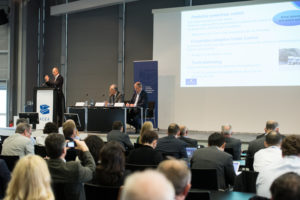 The "ITS4CV" (Intelligent Transport Systems for Commercial Vehicles) focused on ITS solutions for which statistical evidence of fuel or CO2 savings exist. It is therefore a compilation of existing evidence and the study did not carry out new assessments.  It took a similar form to an ERTICO Partnership study in 2015 focusing on the same topic but for passenger cars (see here), expressing results in terms of a percentage reduction in CO2 with a given ITS application compared to without it.
The study supports both ERTICO and ACEA objectives of reducing the carbon footprint of road transport and promoting ITS solutions that have been shown to provide real benefits in this area.
Examples of the in-vehicle systems included in the study are:
On-trip eco-driving support systems: a saving of 7% to 10% of CO2 emissions for heavy vehicles on non-urban roads (excluding motorways, where benefits are negligible) and a saving of 3% to 7% for buses in urban areas.
Eco-routing (navigation): benefits of around 8% to 10% for medium and heavy duty vehicles delivering in urban areas, but less on long haul trips.
Predictive Powertrain Control can reduce CO2 emissions by 3.5% to 5% for heavy vehicles on interurban trips.
Examples of infrastructure or back-office based systems are:
Traffic signal systems such as Energy Efficient Intersection Service (giving extended green time to selected buses or trucks) and GLOSA (Green Light Optimised Speed Advisory) can lead to CO2 savings of around 5% in urban areas (typical range is 1% to 7%, depending on the network, density of junctions and – for buses – locations of bus stops).
Delivery space booking for goods vehicles can reduce local CO2 emissions by over 20% in the vicinity of the delivery location due to avoiding searching for parking spaces, as well as reducing illegal parking.
The ITS4CV study report is available for download here.