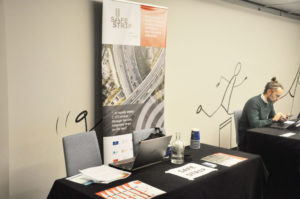 The CEN CENELEC stakeholder workshop "Urban Autonomous Mobility: what role for standards?" took place on Wednesday, 21 November 2018 at Hotel Bloom in Brussels. SAFE STRIP was invited to participate at this event and showcase its revolutionary sensor technology and more specifically what is it doing with standards. Together with UITP, ARCADE and STAND ICT, SAFE STRIP shared the exhibition area open all day to answer questions to interested participants.
The event kicked off with a welcome by Ruggero Lensi, Vice-President of CEN and followed by keynotes of ERTICO and UITP on the topic of the ecosystem of urban autonomous mobility.
Johanna Tzanidaki  – Director of Innovation and Deployment at ERTICO – highlighted the importance of a multi stakeholder involvement for successful standardization in her keynote speech. Johanna mentioned how ERTICO is working to identify the needs and gaps for standards through its working groups and innovation projects such as MaaS Alliance, SAFE STRIP, ARCADE, AEOLIX, TM2.0. She also stressed how we are currently in the transitional period and we need to embrace the "shared traffic" with coexisting as well as new technologies where safety and security standards are of huge importance. ARCADE has also been invited to participate with a booth and several ARCADE partners have been involved in the panels, such as Bosch, Clepa and Renault. The workshop initiated the collaboration between CEN/CENELEC and ARCADE which includes a specific task focussing on standards for CAD.
During the Q & A with the audience, Johanna Tzanidaki and Mohamed Mezghani – Secretary General of UITP, answered many questions regarding the ever more trending Mobility as a Service and its different schemes around the world. Johanna stressed how ERTICO is working with a number of different stakeholders in MaaS Alliance and trying to connect different hubs of public and private spheres.
The day continued with round table discussions focusing on challenges of mixed autonomous and non autonomous model systems and standardization priorities.