SOLUTIONSplus, an important project in ERTICO's Clean Mobility focus area, will reach its two-and-a-half year mark in July this year. Since it started in 2020, the project has achieved several milestones, including the creation of a comprehensive, public e-mobility toolbox comprising a range of tools, methods, and guides around various themes. It has also held city-level demonstrations of local implementation of innovative e-mobility solutions in 10 different cities around the world as part of the Living Labs. 
In 2021, ERTICO led the establishment of the SOLUTIONSplus Start-up Incubator, together with FIER Automotive, using its experience from the ERTICO Start-up initiative and its 'Connect, Innovate, Grow' approach.
Supporting start-ups
Recently, SOLUTIONSplus organised a successful training for its start-ups on  electric vehicle batteries in the manufacturing process. Over four days, from 16 to 20 May, participants learned about fundamental notions and more technical aspects about the sizing and selection of batteries. Various producers and suppliers of battery packs of different types were also present. In total, the training gathered more than 40 participants. All presentations and recordings are available on the SOLUTIONSplus website.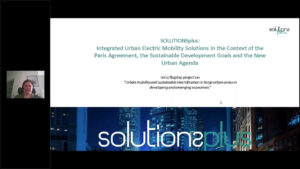 The audience of the ITS European Congress held in Toulouse from 30 May to 1 June had the opportunity to virtually meet some of the start-ups involved in the SOLUTIONSplus project. The participation of the audience was a very important part of the session, as the public had the role of 'investors' and had the chance to select a winner among the different start-ups that were present. Each start-up tried to convince the audience to vote for them through short presentation videos. The exercise produced valuable feedback from the audience on the marketability of the start-up products.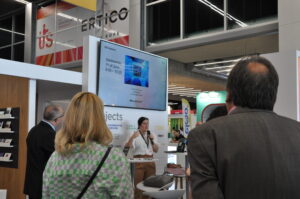 Cooperation with other projects and outreach
More recently, SOLUTIONSplus and FUTURE-HORIZON set up a joint online workshop on International Cooperation Opportunities for Smart Electric Mobility Solutions on 15 June. The joint workshop provided an overview of regions, technologies and local co-development opportunities, before discussing opportunities in Africa, Asia, and Latin America in greater detail.
SOLUTIONSplus will take part in a number of events in the coming months, including the ITS World Congress on 18-22 September in Los Angeles, where the project will be present at the ERTICO stand.
For more information on SOLUTIONSplus, visit the project's website.
The SOLUTIONSplus project has received funding from the European Union's Horizon 2020 research and innovation programme under grant agreement No 875041.