Last Tuesday, 21 June, ERTICO organised a workshop for STORM project partners and stakeholders from the freight and logistics sector to discuss "future trends and challenges in freight and logistics and impact on policies". Freight represents a top-level position in the transport industry C02 emissions and fossil-fuel dependence ranking. To comply with EU environmental goals, alternative practices must be adopted. 
Project Coordinator, Yancho Todorov – Senior Scientist at VTT, opened the session by introducing the STORM project's mission to support the transition of the transportation sector towards a sustainable freight future, exploring novel concepts and business models.
Dr Nikolaos Tsampieris, Senior Manager at ERTICO, presented an overview of the European STORM project and its contributions to paving the way towards a greener and more sustainable future for freight and logistics in Europe. Dr Tsampieris stated that the project "has successfully assessed new needs and knowledge analysis gaps, defining requirements for analysis methods and data while elaborating novel assessment frameworks and models for logistics". Representatives from the European Commission, Paola Chiarini and Andrea Arcelli from DG MOVE,  introduced the latest updates on EU policies in freight and logistics.
As part of STORM's backbone, collaboration is sought, bringing together innovative projects and success stories. Several projects took the floor to enhance synergies. Mads Benzen (DFDC) presented the EU AWARD project, which specialised in logistics operations deployment with automated vehicles under hazardous weather conditions. Dr Yanying Li (ALICE) introduced the EU project BOOSTLOG, maximising the impact of R&I investments in freight transport and logistics to make Europe more competitive and sustainable. Sven Maerivoet (T&M Leuven) showed data's capacity to identify trends and new variables, developing new mobility data and a solutions toolkit within the NuMIDAS project. EU DIGILOGIC project was presented by Thorsten Huelsmann (CEO Digital Hub Management). The project aims to create the first pan-EU-African Digital Innovation Hub for smart logistics by leveraging, strengthening, and connecting innovation between the EU and Africa. To close this block of success stories of European projects, Jose Salanova (CERTH), spoke about the EU URBANIZED project. URBANIZED enhances last-mile delivery with modular and flexible solutions and a fleet of electric light commercial vehicles (LCVs).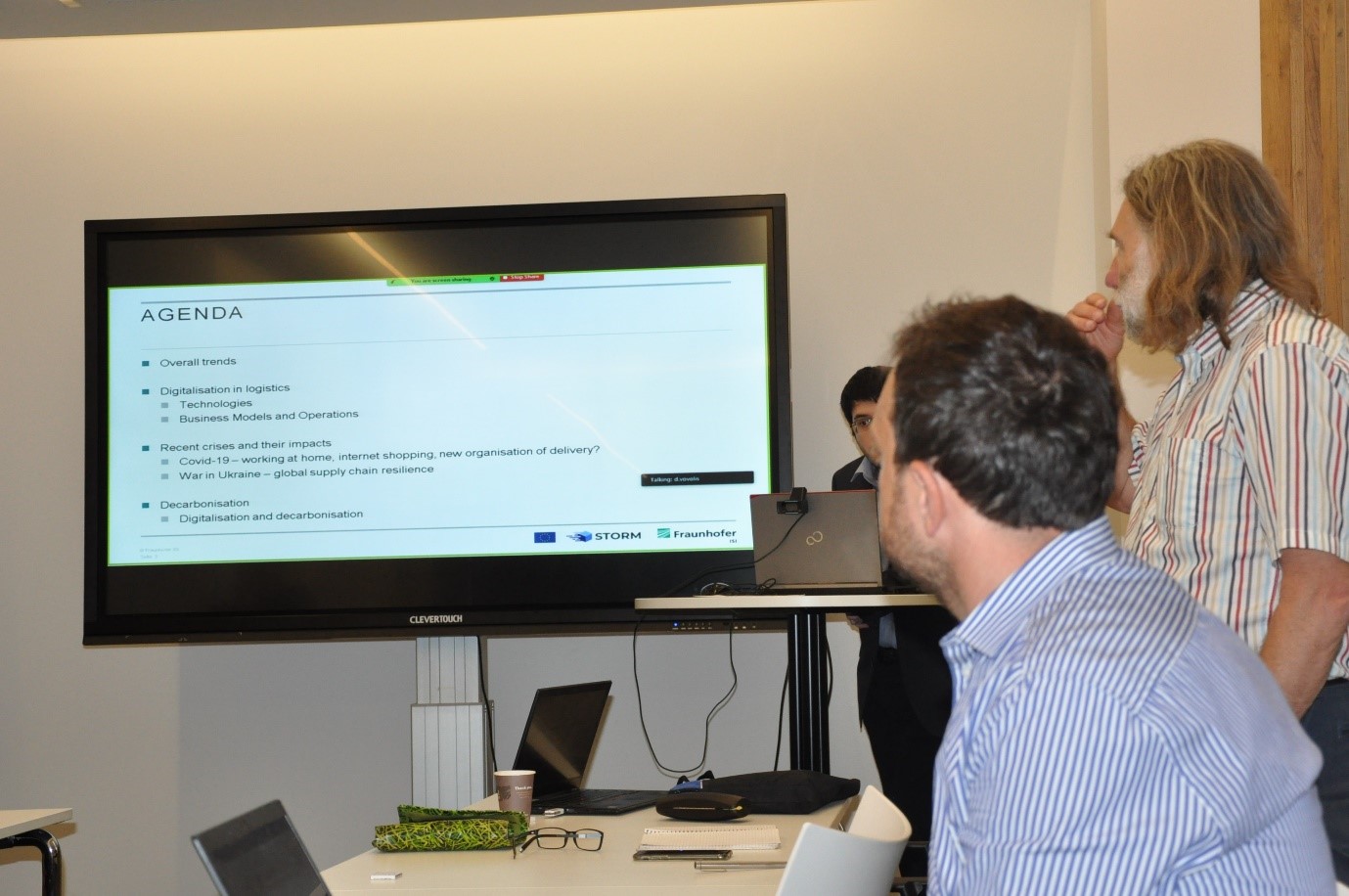 The session was followed by a discussion panel on 'digitalised logistics' led by Jonathan Köhler and Clemens Brauer (Fraunhofer ISI, Germany). The round table debate focused on the upcoming changes in terms of decarbonisation and digitalisation, addressing the main trends and challenges facing this rapidly transforming sector due to international events such as the Covid-19 crisis, the Ukrainian war, or the climate crisis that requires adaptive solutions. The discussion revolved around topics such as IoT, digitalisation of containers, data importance, synchromodality, and gamification. A resilient sector relies heavily on anticipation. As Mr Köhler stated, "it is important to have a range of scenarios and a plausible story of what would make these scenarios happen".
Closing the Workshop, Wasim Shoman (Chalmers University, Sweden), led the session "Big Data in Enhancing the Modeling of Freight Transport Transitions", noting policy, legal, organisational and technical challenges in terms of data management and a need for standardisation. "We need data and models that provide high detailed insights into the vehicle and the fleet due to various requirements and limitations".
STORM project receives funding from European Union's HORIZON 2020 research and innovation programme under Grant Agreement No 101006700.