On 19-20 June ERTICO helped kick off two projects, both of which expect to play a major role in pushing forward greener mobility in cities. ERTICO was at the launch events of the SUM and REALLOCATE projects, where consortium partners met to discuss the plan for the first months of the project, and defined objectives and frameworks for achieving the long-term targets.
The SUM (Seamless Shared Urban Mobility) project kicked off on 19 and 20 June in Lille, at the offices of the Project Coordinator, INRIA. The main goal of the SUM project is to revolutionise existing transportation networks by implementing innovative novel shared mobility systems (NSM) integrated with public transport in over 15 European Cities by 2026, with a target of reaching 30 cities by 2030.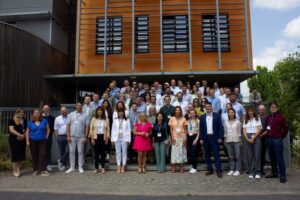 REALLOCATE (Rethinking the dEsign of streets And pubLic spaces to Leverage the mOdal shift to Climate-friendly Active Transport Everywhere) project's main objective is to pave the way towards climate-neutral, safe, inclusive and smart European cities through integrated and innovative sustainable urban mobility solutions that will address the needs of diverse groups and communities, while rebalancing street space allocation. On 19-20 June in Dublin, ERTICO participated in the kick-off meeting organised by the project coordinator, University College Dublin.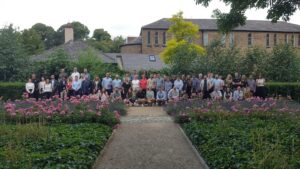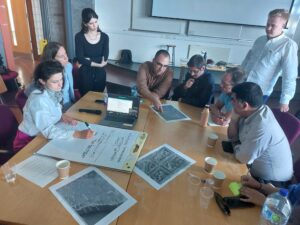 Greening urban areas
On one hand, SUM's transformative initiative will focus on intermodality, interconnectivity, sustainability, safety, and resilience of transport. The project will consider the needs of various stakeholders, including end users, private companies and public urban authorities, and address the identified barriers to NSM adoption for families who rely heavily on cars. Through targeted push/pull measures and policy recommendations, the project aims to increase the usage of NSM by providing affordable and reliable solutions: it aims at shifting the behaviour of 34% of car travellers and 17% of individuals who are sceptical about using NSM.
On the other hand, REALLOCATE will empower 10 twinned Mission Cities (Gothenburg-Tampere, Heidelberg-Utrecht, Lyon-Warsaw, Budapest-Zagreb, Barcelona-Bologna) by providing horizontal thematic expertise, supporting them to build a local innovation ecosystem to develop and deploy zero-emission, shared, inclusive, active and human-centred mobility interventions.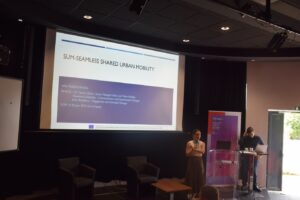 Sustainable and Smart Mobility Strategy
The SUM and REALLOCATE projects answer the European Commission's call on greening urban areas, and fit in the Sustainable and Smart Mobility Strategy launched in 2020. This strategy has the objective of improving sustainable mobility, smart mobility, resilient mobility in order to achieve the European Green Deal's target of reducing transport-related greenhouse gas emissions by 90% by 2050.
According to the SUM project's Policy Officer, CINEA's Marjolein Salens, SUM will help improve Sustainable Urban Mobility Plans and the related policy framework (see, for instance, the Commission's Recommendation on SUMPs published last March). Both SUM and REALLOCATE will establish the right environment in which testbeds will be deployed and in which concrete results will be delivered.
Dr Tamara Djukic, Senior Manager of Innovation and Deployment in ERTICO and ERTICO lead for the SUM project, says "ERTICO will be involved in facilitating peer learning and capacity building for the cities. Our strong connection with the MaaS Alliance and the work of the ERTICO Academy and the City Moonshot, together with the extended partnership we established with cities and service providers, will allow us to provide the consortium with expertise, leadership and commitment."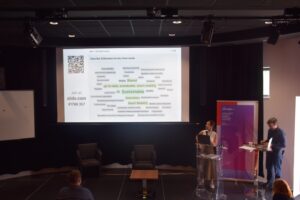 New business models and policy recommendations stemming from the project will be based on lessons learned and best practices. An exploitation plan is envisaged to make external partners (observer cities, Civitas members, member cities and organisations of the POLIS and ERTICO partnerships) engage with the project results.