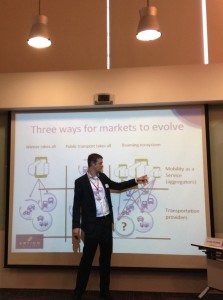 The last Viajeo PLUS City Showcase took place on 16-17 November in Singapore. It was organized by the International Association of Public Transport (UITP) and ERTICO – ITS Europe, with the strong support of the Singapore Land Transport Authority (LTA).
The Viajeo PLUS City Showcase aimed at facilitating knowledge exchange between Singapore and Europe on innovative and efficient urban mobility solutions. It gathered about fifty people, including city representatives, policy makers, technology providers and researchers.
Panellists and attendees highlighted the importance of strengthening the cooperation between EU and Singapore, based on their common interests and how much could be learnt and advanced by tending bridges between both.
Talks also focused on the need to improve public transport in order to facilitate mode shift. Other topics in the agenda included autonomous driving and the use of ITS to improve the quality and efficiency of the transport networks.
As the event came to an end, Michele Tozzi (UITP) praised Singapore for being "very advanced in sustainable transport" and wished for "more opportunities to cooperate".
Finally, Yanying Li (ERTICO ITS-Euope) explained that "the focus of cooperation activities will be on autonomous driving, electric vehicles and MaaS" and announced the ITS World Congress 2019 which will be hosted by Singapore.
More information: ERTICO and LTA 'meet and greet'