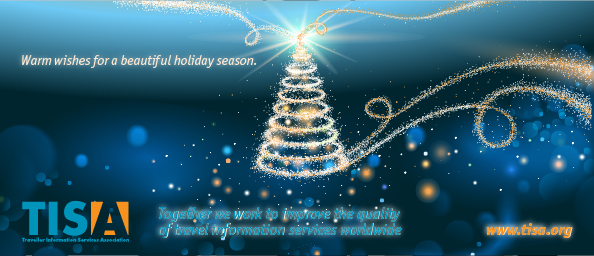 Thomas Kusche: "We reached the ambitious goal of the TISA founders to bring TPEG to fruition"
Daily business makes it sometimes difficult to sit back and enjoy jovial feelings. But I hope that all of you have an opportunity to joyfully remember the highlights of 2015.
Read more
Jacques Naves: "My involvement in shaping ITS technology and legislation was a wonderful journey"
When I joined the TMC Forum in 2006, I was far to imagine the path I will follow: being involved in shaping ITS technology and legislation.
Read more
TISA in 2015: Yearly recap
With the year about to end, it is time now to look back and take stock of twelve months of hard
work within TISA.
We would like to invite you to stroll down the memory lane with these top
three
stories of TISA in 2015:
Andreas Schmid (SWARCO) received the TISA Achievement Award: This award was granted to recognize his work as a chair of the TPEG Applications Working Group (TAWG) and his sustained contribution to TPEG. Read more
TISA flexed its muscles at the ITS World Congress: With an eye-catching stand and an interactive commercial session, TISA members placed themselves at the core of the ITS event of the year. Read more
ITS European Congress 2016: Call for papers open!
The deadline for submissions for technical and scientific papers and Special Interest Session proposals is 13 January 2016.
Read more
UK and German Government Ministers share vision for radio's digital future
Speaking at the WorldDAB General Assembly, the two Ministers emphasised their commitment to digital radio and the importance of working together to further implement DAB in Europe.
Read more
Quantum Inventions launches first fully-integrated connected GPS navigation for iOS with Galactio-SG
Singapore's pioneer in real-time traffic and connected navigation brought its navigation experience to iOS by launching Galactio SG GPS Navigation and Traffic.
Read more
Login required!
The lastest TISA Committee meetings were hosted by NNG
The highlights: presentations from Péter Szombathelyi (NNG) and Bence Makai (TrafficNav), a demonstration at NNG and the election of Alessandro Taddei (Infoblu) as chair of the Content & Service Provision Committee.
Let´s stand together in upcoming ITS Congresses!
As a specific service to TISA members, TISA Steering Board will offer the opportunity to be part of the TISA stand during the 11th ITS European Congress  in Glasgow (6-9 June 2016) and the 23rd ITS World Congress and Exhibition in Melbourne, (10-14 October 2016). For more information,
contact the Executive Office
.