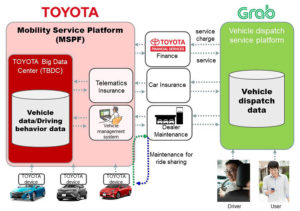 Toyota Motor Corporation (Toyota) announced that it has concluded an agreement with Grab Holdings Inc. (Grab) to strengthen their existing partnership and expand the collaboration between Toyota and Grab in Southeast Asia to drive further advances in Mobility as a Service (MaaS) across the region. As part of this agreement, Toyota will invest $1 billion U.S. dollars (approximately 110 billion yen) in Grab. Furthermore, to accelerate decision-making, one Toyota executive will be appointed to Grab's board of directors and a dedicated Toyota team member will be seconded to Grab to as an executive officer, with Toyota considering more personnel exchanges in the future.
Grab operates online-to-offline mobile platforms in transportation, food and package delivery, mobile payments and financial services in 217 cities in eight Southeast Asian countries. In March this year, it acquired Uber Technologies Inc.'s Southeast Asian assets, and is now the partner of choice for ride-hailing in the region.
Since August 2017, Toyota and Grab have been developing connected services for Grab utilizing driving data collected by Toyota's TransLog data-transmission driving recorder. The recorder, developed by Toyota for corporate fleets, has been installed in 100 Grab rental cars. The data collected is stored on Toyota's proprietary mobility services platform (MSPF), which serves as a form of information infrastructure for connected vehicles. Both companies have already begun collaboration in the field of connected vehicles by, for example, providing driving-data-based automotive insurance for Grab's rental fleet in Singapore through local insurance companies.
Toyota and Grab's initial success led them to expand their collaboration, as announced today. This expansion is aimed at achieving connectivity for Grab's rental car fleet across Southeast Asia, and at rolling out various connected services throughout the region that utilize vehicle data stored on Toyota's MSPF. In addition, collaborations in driving-data-based automotive insurance, financial services for Grab drivers and maintenance services are also contemplated under the new partnership.
Through this new agreement, Toyota and Grab plan to shift into full-scale implementation of services they have been developing to customers in Southeast Asia. The two companies will look for future collaborations aimed to achieve more-efficient ride-hailing businesses and for developing future mobility service solutions and MaaS vehicles.
Regarding the latest agreement, Shigeki Tomoyama, Toyota executive vice president and president of Toyota's in-house Connected Company, said: "I am delighted that we are strengthening our collaboration, which utilizes Toyota's connected technologies, with Grab, Southeast Asia's leading ride-hailing company. Going forward, together with Grab, we will develop services that are more attractive, safe and secure for our customers in Southeast Asia."
Anthony Tan, co-founder and CEO of Grab, also commented: "We are thrilled to have Toyota onboard as a long-term, strategic partner of Grab's. Toyota is an incredible company that has done so much for the world. This strong partnership will enable us to become the one-stop mobility platform in Southeast Asia. We look forward to executing the same vision of the future. A future that will provide for safer and more affordable rides, more liveable cities, and millions of new micro businesses in the digital revolution. We will continue to work with global leaders like Toyota in bringing this vision to pass."
From today onwards, Toyota and Grab will contribute to the creation of the mobility society that delivers comfort and benefit to the people in the Southeast Asia, by leveraging the know-how, services and technologies of each company.
Source and photo credits: Toyota