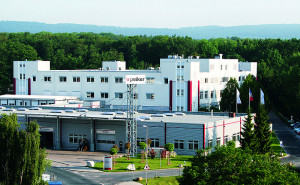 With the acquisition of peiker, the German based technology provider of on-board telematics and mobile connectivity solution, Valeo widens its range of connectivity solutions. In February 2015 Valeo and peiker had already signed a technological cooperation agreement. With its technological expertise in the field of telematics and connectivity solutions, peiker enriches Valeo's global presence and know-how in on-board electronics and further strengthens the automotive supplier's leadership on the path towards the autonomous and connected car.
A pioneer in the field of intuitive driving, Valeo is developing an extensive range of high-technology systems using ultrasonic sensors, radars, cameras, laser scanners, head up displays and software to make the car of the future more intuitive to drive, safer and more efficient.
The integration of peiker into the Valeo group will allow the French based automotive supplier to offer automakers global solutions for new telematics systems. The technological foundation of these solutions are peiker's connectivity modules. By enabling fast, reliable data exchange in the vehicle, they are bringing the "connected car" to life. They also allow for the high-speed connectivity and cybersecurity features needed in this high-growth market, notably with innovative products connecting vehicle to vehicle and vehicle to infrastructure and compatible with forthcoming LTE Advanced mobile (4G+) broadband services and beyond.
The acquisition of peiker, which will post sales of around € 310 million in 2015, employs 1,000 people and has subsidiaries in the US, Mexico, France, and China, will be accretive in 2016 and will be submitted to the competition authorities concerned.
Commenting on the acquisition, Jacques Aschenbroich, Valeo's CEO said: "We are delighted to welcome the peiker teams to Valeo. We highly value the technology culture that Andreas Peiker and his family have built over the decades. peiker's portfolio of technologies, products and services is perfectly aligned with our vision of intuitive driving, and the role that it will play in the autonomous, connected and intuitive car of the future."
Andreas Peiker, CEO of peiker, adds : "Joining the Valeo group is a big step towards the future. We will be able to strengthen our position in the global field of telematics and connectivity and can thus open up new markets that we could not access as a mid-sized company. I am very excited to be a part of such a renowned global player in the automotive industry. It is a win-win situation – both companies will benefit from the other's know-how and experience. Together, we will shape the future of the connected and autonomous car."
Original source: Peiker