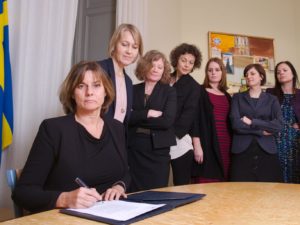 On February 2nd Sweden announced it was setting a goal of phasing out greenhouse gas emissions by 2045, among the most ambitious by any developed nation and ignoring uncertainty about climate change policies under U.S. President Donald Trump.
Seven of eight parties in the Nordic nation's parliament – all but the far-right Sweden Democrats – agreed to pass a law in the coming months to oblige governments to set tougher goals to cut fossil fuel use every four years towards the 2045 cut-off.
---
Related Content
---
"Our target is to be an entirely fossil-fuel-free welfare state," Climate Minister Isabella Lovin told Reuters in a telephone interview.
"2045 is a good year," she said of the target formally adopted after a year of review, adding: "I personally believe we could get there even earlier." She expected the law to enter into force in 2018.
Among EU nations, she said, Britain, Denmark and Finland have also passed climate laws meant to make long-term policies less easily overturned and to give more certainty to investors.
By contrast, Trump has sometimes called climate change a hoax and wants to bolster the domestic coal and fossil fuel industries. He has threatened to pull out of a 2015 Paris Agreement on climate change but also said he has an "open mind".
Swedish Prime Minister Stefan Lofven told a news briefing in Stockholm that Trump's climate policies were worrying because greenhouse gas emissions would affect everyone.
He and Lovin said all other nations should stick with the Paris Agreement.
The European Union as a whole has set a target of an 80-95 percent reduction in greenhouse gas emissions by 2050
To read the full story, please click here.
Source: Reuters