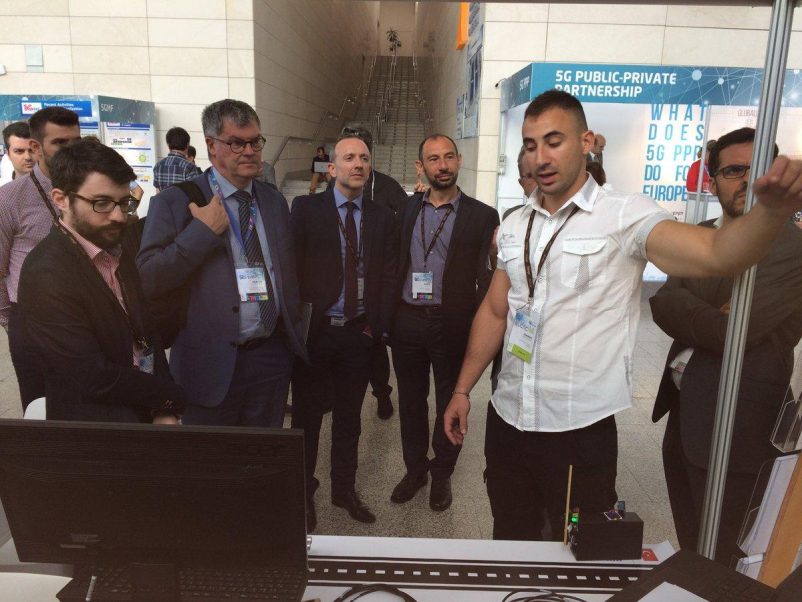 5G-MOBIX held a workshop entitled "5G in the era of Connected Cars" on Tuesday, 18 June 2019. The workshop discussed the successful path towards CCAM services with the use of 5G technologies. The workshop also discussed the challenges and the approaches to reduce the uncertainties of a 5G deployment, in multi-country, multi-operator, multi-vendor, and multi-car-manufacturer scenarios.
During the workshop, Panagiotis Demestichas, WINGS-ICT gave a very interesting details on the challenges faced in 5G-MOBIX for improved mobility in the border between Greece and Turkey.
José Santa, University of Murcia presented the Spain-Portugal x-border corridor and described 5G-MOBIX from a technological point of view in which V2X communication plays an irreplaceable role. José Santa also gave interesting highlights about the Spain-Portugal border tested in the trials.
5G-MOBIX shared a booth with fellow 5G cross border corridor projects 5GCARMEN and 5GCroCO. At the end of the event, the three projects were awarded the Best Booth Award. This is a great achievement for the three corridor projects which are at their early stages but have already organised joint events in the past (EUCAD 2019).
5G-MOBIX partner WINGS-ICT solutions organised a demo regarding assisted 'zero touch' truck border crossing in Greece Turkey at the 5G-MOBIX common booth with other 5G cross border projects. The booth and the demo were also visited by Pearse O'Donohue (Director for Future Networks DG CONNECT, European Commission).
For more information on the Assisted zero-touch truck-border-crossing & increased cooperative awareness demo click here.