Data sharing, interoperability, public-private cooperation and innovation. These were some of the hot topics discussed at the latest ITS European Congress held in Toulouse from 30 May to 1 June.  The event focused on the commitment to sustainable and smart mobility. In alignment with these vertical axes, ERTICO showcased several of its European partnership projects and innovative platforms.
ERTICO multi-stakeholder innovation platform TN-ITS and NAPCORE project held two intersessions in Toulouse, fostering cooperation between different actors, from road authorities to map makers, to enhance road safety and efficiency.
ERTICO CEO, Joost Vantomme, hosted two high-level presentations highlighting the importance of aggregated data and its capacity to effectively reduce road casualties. This is achieved through ERTICO's mobility data space platform Data for Road Safety (DFRS).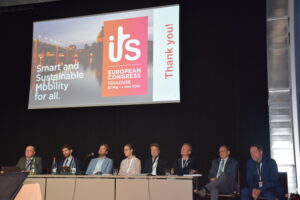 In a Special Interest Session, ERTICO's data exchange standardisation bodies like TM2.0, TN-ITS, SENSORIS and MaaS Alliance have addressed what are the most relevant next actions to be taken to cover the need for data exchange to insure interoperable mobility services in Europe.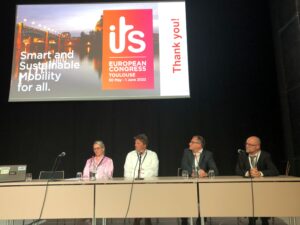 Seamless 5G connectivity is making an impact
Country trial and cross-border trial events have been making headlines recently in the dynamic 5GMOBIX project ecosystem.  The results of these events made for a fascinating ERTICO stand presentation by Coen Bresser, project lead for 5GMOBIX.  Visitors to the ERTICO stand engaged with the interactive screen display and participated in a 5G-related quiz, the results of which will help consortium members fine-tune the next steps.
Data optimization and sharing with FENIX