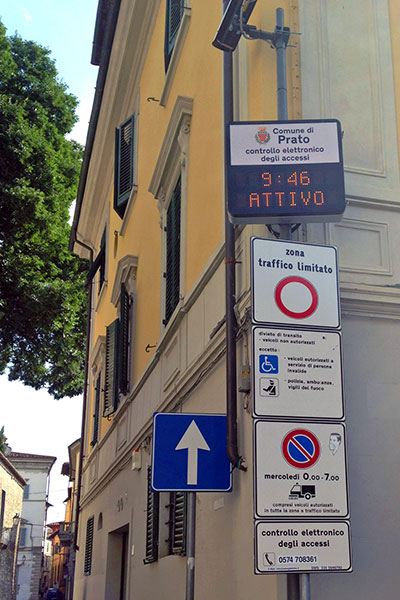 Kapsch TrafficCom AG, listed on the Vienna Stock Exchange in the prime market segment, implemented a new system to regulate city access into Prato (Tuscany, Italy). The Automated Access Control System in the Limited Traffic Zone (LTZ) started operations in early July 2015. The system consists of a central system, software managing and issuing the permits and cameras placed at six gates that mark the access points to the city center. This solution replaces the old system based on paper permits and manual control. Currently, the Limited Traffic Zone is active 24 hours a day and the only ones allowed to enter the area are permit holders: residents, shopkeepers, disabled people, public utility operators, maintenance personnel and hotel guests.
More efficiency through automated control
The introduction of an Automated Access Control System includes several advantages. It ensures greater efficiency both in the enforcement of regulation as well as the payment in case of infringements. The cameras capture the license plate of vehicles when driving through the access points. The images obtained are automatically checked against a list of registered vehicles. If there is a discrepancy between authorization and license plate, the system will forward the data for processing to the local authorities. Before using the new technology, the system went through a month-long test run. Firstly fine adjustments have been made during this time. Secondly, the residents were given time to get familiar with the automated operation. The number of violations already sharply declined during the test month – according to the local police, this trend speaks for an increased awareness and acceptance of the access restriction among the citizens.
Quiet alleys
The aim of the access solution in Prato – like in many other Italian cities – is not to collect large sums of money by traffic offenders. Rather, it is about the protection of the historical heritage of the city and the environment. The residents appreciate the better quality of life and the constraints are also of importance to the touristic appeal of the historic city centers. Because of this heritage and the special narrow structure of inner cities Italy was worldwide among the first countries which adopted rules for limited traffic zones. Today, there are in Italy more than 100 urban areas with absolute driving ban and approximately another 170 with regulated access. Kapsch was the first company that has designed, planned and implemented automated systems for these zones. The first was installed in Bologna in 1994. Since then, Kapsch has participated in similar projects in around 35 Italian cities; including Rome, Naples, Turin, Ravenna, Salerno, Piacenza, Bergamo, Bardonecchia and now Prato.
Original source: Kapsch