On 19 September, City Moonshot hosted an interactive workshop at the ITS World Congress to discuss the latest urban mobility trends with city representatives from around the world. Urban Air Mobility, one of the hot topics of the second City Moonshot report, was under debate together with climate change and Mobility as a Service. 
The City Moonshot is one of ERTICO's flagship initiatives aiming to deliver a global overview of the main challenges and trends in mobility and transport across cities. This will be the result of 300 interviews to city representatives. 150 interviews were already conducted during Phase I of the initiative.
Under the umbrella of the City Moonshot initiative, ERTICO organised an interactive workshop at the ITS World Congress 2022 in Los Angeles. The session titled "City Moonshot: Cities' intelligence to accelerate the transformation of mobility", offered a dynamic discussion on some of the most crucial topics for the future of urban mobility and transport.
Three guest moderators and participants from various cities worldwide ensured a global representation. Carol Schweiger, president of Schweiger Consulting with international recognition in transportation technology consulting; Young-Jun Moon, Chief Director of SOC Digitalization Research Center; and Eric Sampson, Senior Civil Servant (retd.) from the UK Department for Transport and ERTICO Senior Congress Adviser, together with Vladimir Vorotovic, ERTICO Director of Innovation and Deployment, represented the viewpoint of America, Asia and Europe, respectively.
"The Workshop buzzed with activity as city representatives exchanged experience of handling topical problems and brainstormed ways to deal with emerging issues", stressed Mr Sampson.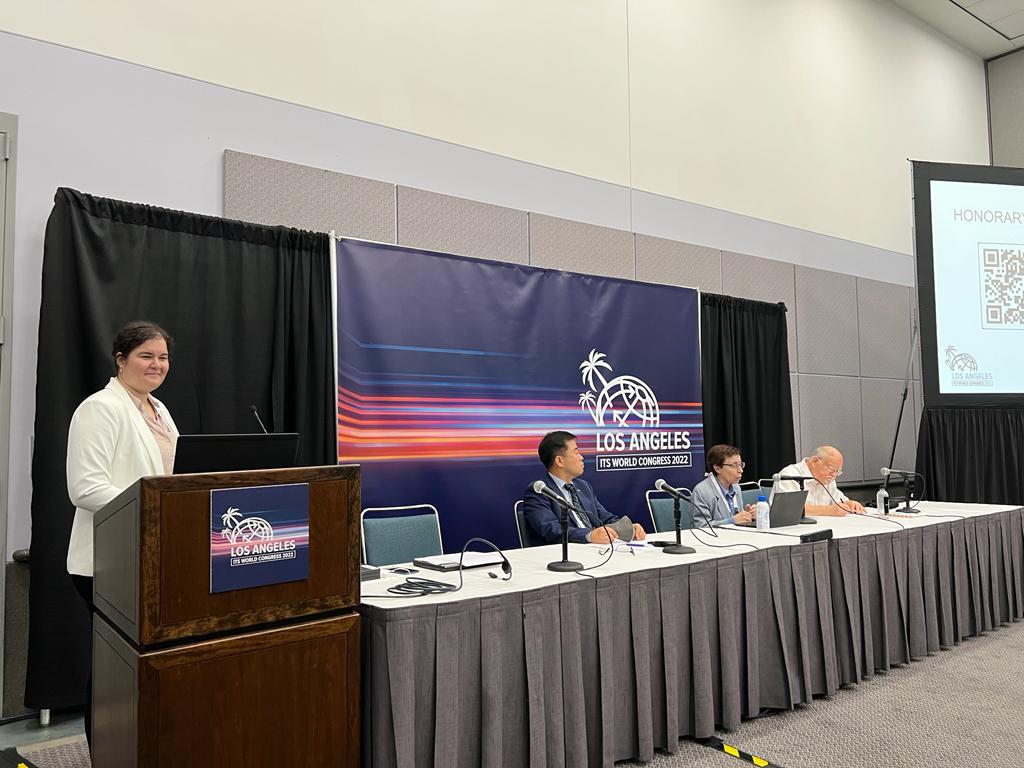 Following City Moonshot Phase I results, climate change and Mobility as a Service (MaaS) were two of the main topics under discussion. All participants agreed on the need for solid action plans, further investment, and enhancing alternative eco-friendly transport modes as solutions towards more sustainable mobility. Broader citizen engagement was agreed upon as a consensual solution.
Regarding MaaS, participants stressed the need for greater public-private cooperation, with the city as the enabler.
The future of urban mobility is in the air 
The second round of debate focused on a novel and relevant subject to the future of urban transport: Urban Air Mobility. Many cities are testing disruptive initiatives on the field. However, there is still a long way to go.
"We observed a general interest in the subject, but this new way of understanding transport and mobility is also accompanied by concerns. City Moonshot aims to understand the visions of different cities in order to support them in building new solutions adapted to their needs", stated Lidia Buenavida, ERTICO I&D Manager and organiser of the session.
Stay tuned to City Moonshot Phase II results to learn more about what cities have to say in this regard.
ERTICO brings innovative and transformative alternatives to the transport and mobility sector. Numerous European projects, platforms and initiatives, together with the expertise of our partners, help us bring a holistic approach.