ERTICO City Moonshot is advancing on its mission to bring to the foreground cities and regions' mobility concerns and to highlight potential opportunities. Much progress has been made by gathering valuable insights from global, regional and local representatives through interviews and by engaging in related activities that contribute to the realisation of the European Union's sustainable objectives for cities. Last month, the team participated in the Smart Mobility Summit of Cities and Regions in Lisbon, while also continuing to make an impact through ERTICO's membership of the European Commission Expert Group on Urban Mobility. 
The United Nations predicts that nearly 70% of the global population will reside in cities by 2050. City Moonshot is the ERTICO initiative that seeks to understand the key urban mobility challenges. Intending to gain valuable information to combat pollution and unlock the potential of digitalization, it creates a knowledge ecosystem based on 300 interviews worldwide.  City Moonshot aligns closely with the European Union's vision, actively working towards shared objectives, including the EU Mission for Climate-Neutral and Smart Cities.
Shaping Urban Mobility at the Smart Mobility Summit of Cities and Regions
City Moonshot participated in the Smart Mobility Summit of Cities and Regions that was celebrated during the ITS European Congress.  Delegates from cities and regions in Europe, the Middle East and Africa exchanged insights on how to drive innovation and implement smart and sustainable mobility solutions to improve the quality of life of their citizens.
The team participated in the roundtable discussions, which included topics encompassed in City Moonshot's first report, like collecting and using mobility data. "Long-term plans may not be sustainable due to the rapid pace of technological advancements. It is necessary to establish short-term plans that do not become obsolete. Data exchange between cities and private and public stakeholders can help to keep them up to date and to adapt plans to current situations", states Lidia Buenavida Peña, Innovation and Deployment Project Manager at ERTICO, who co-leads City Moonshot.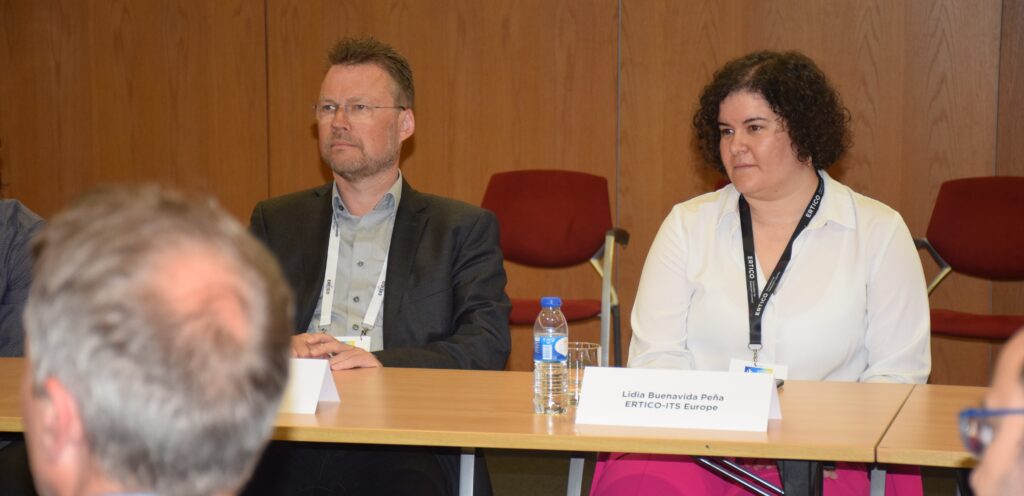 Emin Aliyev, also ERTICO I&D Project Manager, participated in the table discussion on transitioning to sustainable mobility, which highlighted the different challenges that emerge depending on the geographical area and regional characteristics. Mr Aliyev emphasised the importance of creating "common strategies such as cycling infrastructure development, pedestrian-friendly routes and spaces, as well as public awareness campaigns to promote sustainable urban mobility".
John Paddington, I&D Senior Manager participated in the session on setting and using smart mobility indicators, which discussed the implications of the proposed TEN-T regulation for all major cities on the TEN-T network to collect data related to Sustainable Urban Mobility Indicators (SUMIs). "Attendees agreed that indicators can't be too mathematical and need to be practical. There were good conversations about how ITS can help collect data", says Mr Paddington.
Another subject addressed during the summit was reshaping the urban road space to serve diverse modes of transportation, from public and private vehicles to cycling and walking. Vladimir Vorotovic, I&D Director and co-leader of the City Moonshot, who took part in the table discussion says, "This topic is of great significance for the implementation of the EU Urban Mobility Framework, for which the European Commission has set up an expert group. ERTICO leads sub-group 6 of the Expert Group on Urban Mobility (EGUM), which as it happens, relates to The future of urban mobility and inclusive urban space."
Seville, the latest addition to the City Moonshot ecosystem
City Moonshot performed its first in-person interview during the ITS European Congress, collecting mobility insights from Seville. The city has implemented a Sustainable Urban Mobility Plan (SUMP) to improve the citizens' quality of life and make it a more liveable city with more open spaces and green areas. To this end, they are committed to the modal split, encouraging travel by sustainable modes. The city is leading in bike lane extension, with a 200km network. They are also working on better integration of the public transport system and its decarbonisation, seeking to make 75% of their fleet carbon-neutral. E-mobility, one of the main themes of City Moonshot Phase II, is also one of the priorities for the city, will reach 700 charging points at the end of 2023. Seville will host the upcoming Urban Mobility Days in October this year. Additionally, it has been selected as the 'preferred' city to host the next ITS European Congress in 2025.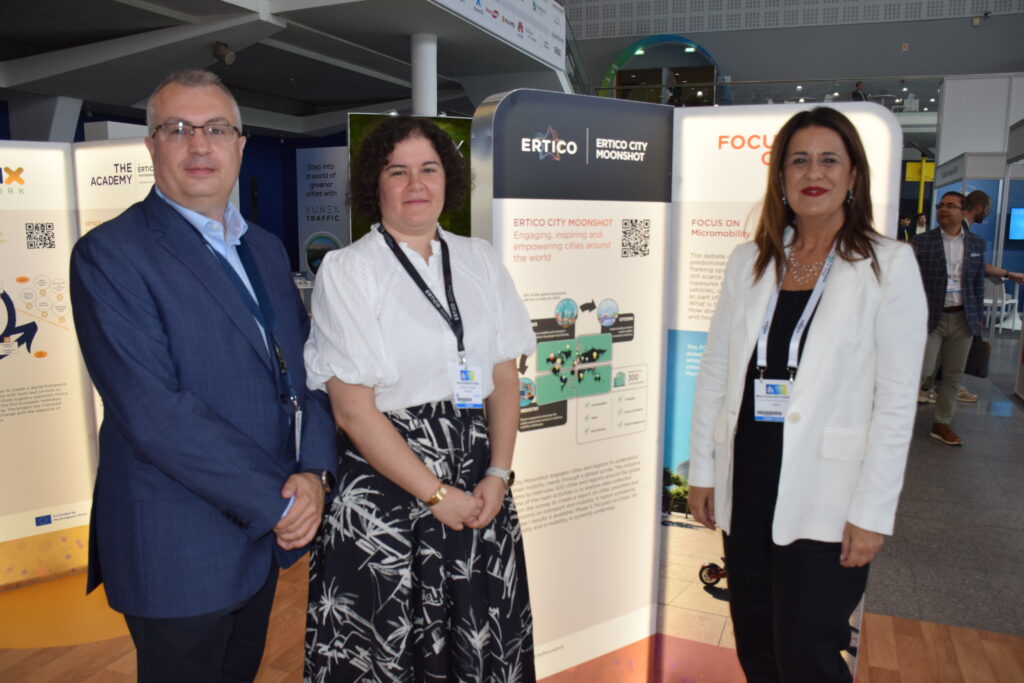 Download the Phase I report to explore City Moonshot results on MaaS, sustainability and data sharing. For more information, visit the website.