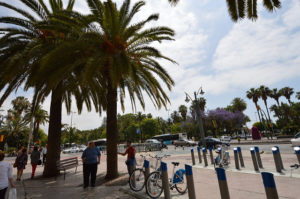 The CIVITAS Initiative is running a three-day summer course from 7 – 10 June in the Spanish city of Málaga.
The course will look at sustainable urban mobility in the context of quality of life in cities. There is great potential for sustainable urban mobility to contribute to making cities more pleasant places in which to live and spend time, with positive impacts on the environment, local economy, and even the physical and mental health of residents.
A number of speakers will attend to share their expertise, from organisations such as the OECD, UN-Habitat, and Erasmus University Rotterdam. The cities of Gdynia (Poland), Nantes (France) and Tel Aviv (Israel), will also be present to give their experiences of improving quality of life through sustainable urban mobility.
The summer course will include a mixture of presentations and interactive discussions with participants, as well as practical assignments in the streets of Málaga to turn theory into practice. Participation is limited to 40 individuals and is free of charge, although a deposit is requested to ensure attendance, which will be refunded after the event has taken place. A limited number of participants can also request that their travel and accommodation costs be refunded.