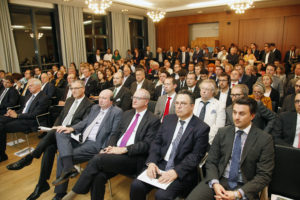 DEKRA, world leader of vehicle testing and ERTICO partner, organised the presentation of its Road Safety Report on Monday, 15 October, in Brussels. The event focused on Transport of Goods in combination with a presentation of the Road Safety Report 2018. Around 200 guests attended, including Members of the European Parliament as well as representatives of the European Commission, the Member States, business and civil society.
Stefan Kölbl, CEO of DEKRA, opened the event by welcoming the European Commission's proposal on the third Mobility Package that was presented in May of this year. He illustrated the opportunities and risks related to new trends in the mobility sector and highlighted the importance of safety. He stated that DEKRA has been taking on the role of "Digital Safety Experts" with significant investments in the sector of Internet of Vehicles, which is key for the challenges resulting from automated mobility.
The event's keynote speech was held by Henrik Hololei, Director-General of the Directorate-General for Mobility and Transport of the European Commission. He focused on road safety and emphasized that cooperative, connected and automated mobility solutions offer potential for eliminating road deaths and serious injuries. Mr Hololei stressed that while digitalization opens up new opportunities to ensure interoperability between the different operators of the freight and logistics multimodal supply chain, innovative services aim at improving safety and reliability of operations.
Clemens Klinke, Member of the Management Board of DEKRA, presented this year's Road Safety Report. Road safety is especially at stake when freight vehicles are involved in accidents. Therefore, it is worth paying attention to all aspects regarding commercial vehicles – vehicle technology, the human factor, as well as the infrastructure. Several best practices were presented. Mr. Klinke emphasized that improvements of accident prevention could primarily be achieved using driver assistance systems. However, it is crucial to the successful use of the new systems that the driver masters the different applications.