The World Health Organisation released the global status report on road safety 2015,  ahead of the 2nd Global High-Level Conference on Road Safety.
The Global status report on road safety 2015, reflecting information from 180 countries, indicates that worldwide the total number of road traffic deaths has plateaued at 1.25 million per year, with the highest road traffic fatality rates in low-income countries.
In the last three years, 17 countries have aligned at least one of their laws with best practice on seat-belts, drink–driving, speed, motorcycle helmets or child restraints.  While there has been progress towards improving road safety legislation and in making vehicles safer, the report shows that the pace of change is too slow.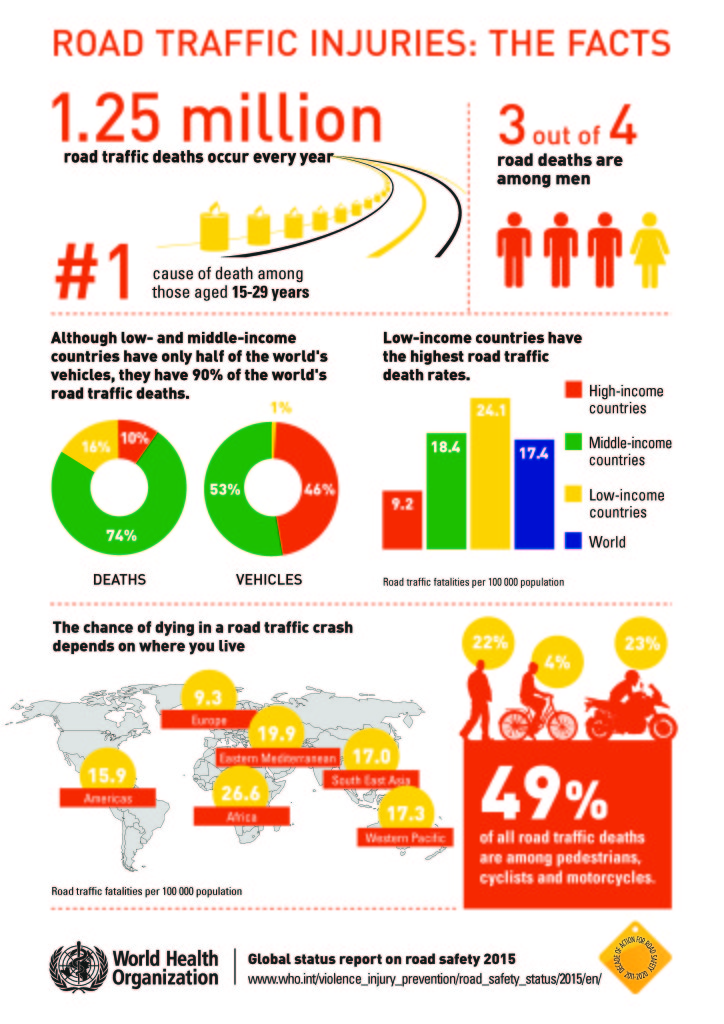 More attention required to protect vulnerable road users and improve vehicle safety
Motorcyclists are particularly vulnerable, making up 23% of all road traffic deaths. In many regions this problem is increasing; in the region of the Americas, for example, the proportion of motorcycle deaths out of all road traffic fatalities rose from 15% to 20% between 2010 and 2013. In the South-East Asia and Western Pacific regions a third of all road traffic deaths are among motorcyclists.
Pedestrians and cyclists are also among the groups with the least protection, making up 22% and 4% of global deaths respectively. "Decision-makers need to rethink transport policies," – said Dr Etienne Krug, Director of WHO's Department for Management of Noncommunicable Diseases, Disability, Violence and Injury Prevention. "Improving public transport as well as making walking and cycling safer requires us to refocus our attention on how vehicles and people share the road. The lack of policies aimed at vulnerable road users is killing people and harming our cities. If we make walking and cycling safer there will be fewer deaths, more physical activity, better air quality, and more pleasant cities. "
The report also found that some vehicles sold in 80% of all countries worldwide fail to meet basic safety standards, particularly in low- and middle-income countries where nearly 50% of the 67 million new passenger cars were produced in 2014.
The Brasilia Declaration on Road Safety
On 18-19 November 2015, for only the second time in history, ministers of transport, health and interior and their representatives gathered in Brasilia, Brazil to address the global road safety crisis. They discussed urgent actions needed in order to achieve the ambitious target for road safety reflected in the newly adopted 2030 Agenda for Sustainable Development: halving the global number of deaths and injuries from road traffic crashes by 2020.
It concluded with the adoption of the  "Brasilia Declaration on Road Safety", which will guide action through the end of the UN's Decade of Action for Road Safety 2011-2020 and beyond.
Brasilia Declaration: A call to save 625k lives from traffic crashes every year https://t.co/hLwWkfDKWl #RoadSafety pic.twitter.com/L13G2LlVwG

— WHO (@WHO) November 19, 2015
Original source: WHO