ERTICO is proud to be part of eBRT2030, a new EU-funded project at the cutting edge of urban public transport. The European Bus Rapid Transit of 2030: electrified, automated, connected project, eBRT2030, represents a major milestone in electric and sustainable mobility and proposes innovative solutions for electric Bus Rapid Transit (BRT).
eBRT2030 aims to create a new generation of advanced full electric BRT, for both urban and peri-urban transport. The project targets one of the biggest innovations in the bus domain, and will help cities in Europe and worldwide achieve their sustainability objectives by improving the environmental impact of urban transport. To achieve this, the project proposes novel automation and connectivity functionalities to reduce greenhouse gas emissions and traffic congestion, as well as the cost per km per passenger and TCO (total cost of ownership).
In the next four years, the project will develop innovative solutions linked to the vehicles, charging, and IoT (Internet of Things) that will be tested at six demonstration sites in Europe (Barcelona, Amsterdam, Noord Brabant, Athens, Rimini, and Prague) and one demonstration site in South America (Bogotá). The solutions tested will be fully integrated into the wider urban mobility scenario and will help improve Europe's urban bus system.
eBRT2030 was launched under a call of the 2Zero partnership, of which ERTICO is an associate member. The 2Zero partnership works towards the transition to a European carbon-neutral road transport system by 2050 to help achieve the European Union's goal to be climate-neutral by 2050.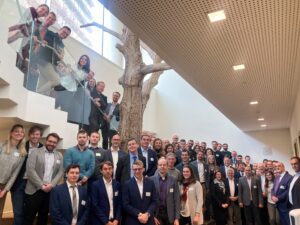 The official kick-off of the project took place in Brussels last February. Representatives from the 45 partners of the project joined UITP, the project coordinator, to align visions and discuss the next steps of the project, ensuring its good start. Within the project, ERTICO acts as the Innovation Manager and will develop an Innovation process to manage and monitor the development of the project innovations and related KPIs; ERTICO will also develop an Innovation Management plan.
You can find more information about eBRT2030 and the different activities of the demonstration sites on the project's newly launched website. Follow eBRT2030's progress and latest news on social media: the project is also on Twitter and LinkedIn.