Brussels 10 September 2019 – Today, stakeholders from the mobility sector including the European Commission, vehicle manufacturers, telecom operators, testing and certification agencies met at ERTICO offices in Brussels for a Focus On Workshop to discuss the evolution of eCall into its next generation (NG eCall).  The initiative spear-headed by ERTICO and its team of experts will lead to the first ever LTE TESTFEST event, jointly organised by ERTICO, DEKRA and ETSI in Malaga at the end of the year.
Mobile networks in Europe are rapidly evolving towards LTE, which raises a compatibility issue for the currently regulated eCall, in particular if the required 2G/3G radio equipment will be decommissioned. European standardisation organisations have already published technical specifications for deploying eCall systems over LTE mobile networks. At the workshop, intense discussions took place on the situation of the eCall evolution and its migration of the Mobile Network towards LTE and beyond.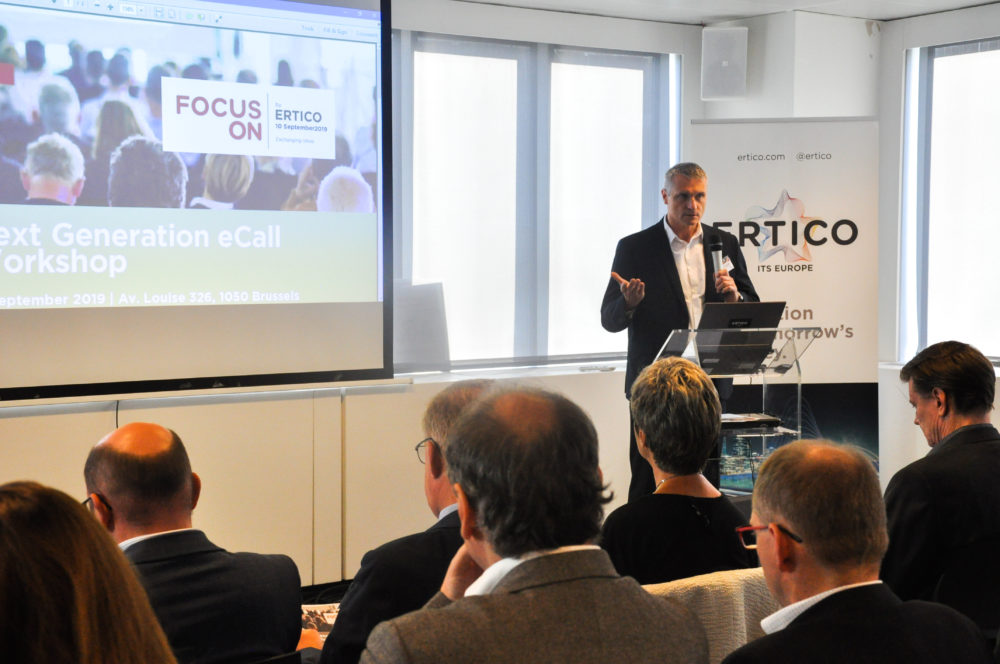 'The FOCUS ON Workshop offers the unique opportunity to collect feedback and input on how to deal with change in eCall implementation. eCall is the first regulated connected service that is rising to the challenge of mobile network evolution.' says François Fischer, Senior Manager, Innovation and Deployment at ERTICO.
'ERTICO is a valuable platform for bringing together stakeholders and is the ideal coordinator for this second stage of eCall's evolution. As the largest testing organisation in the world DEKRA is highly committed to vehicle safety. We carry out 70 million vehicle inspections a year and we wish to continue to ensure that eCall technology remains in all the cars that we test!' says Thomas Jaeger, Senior Vice President Service Division Product Testing, DEKRA.
'For vehicle manufacturers, it is essential to have certainty and common collaboration in the further development of this crucial safety function.  ERTICO's Focus On Workshop has provided the ideal forum for the mobility industry to come together and to collaborate on where we go next!' says Alin Stanescu, Manager for Volkswagen Infotainment and ACEA's Radio Regulation Task Force.
'For Toyota this event was very useful! It helps to understand the next generation EU eCall evolution and how to provide future proof solutions for our customers. Bringing together the relevant stakeholder in one room revealed most of the remaining challenges for each party and also demonstrated that close cooperation among the different stakeholders will be required. We hope that ERTICO can play a key role in coordinating the next steps.', Ole Diels, Toyota.
From April 2018 eCall regulation requires all new cars to be equipped with eCall technology. In the event of a serious accident, eCall automatically dials 112 – Europe's single emergency number.
Please be advised that the eCall LTE TESTFEST event in Malaga has been postponed to a date to be defined. 
FOCUS ON Workshops are events organised by ERTICO-ITS Europe that offer the Partnership the opportunity to exchange ideas on innovating tomorrow's journey.