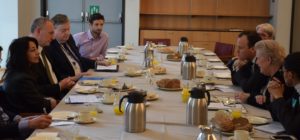 Early on Wednesday morning, April 26th, ERTICO met with leading members of the European Parliament and the ITS community to discuss intelligent mobility and 'Smart Cities' and to present the 12th ITS European Congress, taking place on 19-22 June in Strasbourg.
The breakfast meeting was hosted by the Chair of the TRAN Committee Karima Delli, who was joined by MEPS Ismail Ertug, Pavel Telička, Marc Tarabella and Edouard Martin.
Also participating in the breakfast meeting were Catherine Trautmann – Vice-President of the Eurometropole of Strasbourg, Mathias Lelievre – Sustainable Mobility Director at ENGIE and Claire Depré – Head of the European Commission's Sustainable and Intelligent Transport Unit.
ERTICO CEO Jacob Bangsgaard briefed attendees on the upcoming ITS European Congress and on ERTICO's role and mission in supporting the development and deployment of intelligent transport systems across Europe and affirmed our organisations commitment to work with the European institutions.
Speakers then took turns to present, followed by a Q&A and open debate at the end. Discussions were lively and productive as attendees shared their experience and knowledge of ITS and how they believe Europe can continue to lead in this sector.