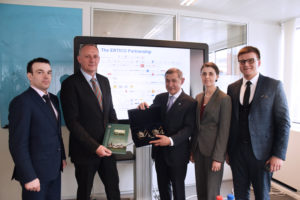 The Ministry of Information and Communication of the Republic of Tatarstan, represented by Anatoly Geller, the deputy minister of Information and Communication, Rifkat Minnikhanov, Director for "Road Safety" organisation and  Marsel Nigmetzyanov, CEO of Kazan Telematics, visited ERTICO on Thursday, 28 April 2017.
ERTICO-ITS Europe and the Tatarstan delegation discussed current mobility issues in Tatarstan and possible solutions which include 17 plans dedicated to Kazan.
Currently the biggest challenge in Tatarstan is traffic, and the authorities are looking into video enforcement possibilities for bus lanes. Another point on the agenda was the local production of adaptive traffic lights with SWARCO as well as the integration of the eCall road safety initative.  Tatarstan is also looking into regulation for autonomous trucks while the autonomous shuttle bus is already foreseen for 2018.
ERTICO-ITS Europe and Tatarstan agreed that the latest developments in Kazan, and more widely Tatarstan, are an excellent opportunity for the ERTICO Partnership to work with Tatarstan and the rest of Russia.
Every two years Tatarstan organises a national ITS conference focused on the latest mobility developments in the region. The fifth International Research and Practice Conference entitled "Modern problems of life safety: Intelligent transport systems" will take place on 27-28 February 2018 in Kazan.