And it is official: the European Startup Prize for Mobility was launched on December 7 in Paris. From now on, startups all over Europe can dream about becoming one of the 10 winners of the European Startup Prize for Mobility.
The Startup Prize offers unprecedented visibility through an all-expenses paid tour of five European tech capitals (Barcelona, Paris, Berlin, Copenhagen and Tallinn) to meet potential customers, investors, business accelerators and local partners in 2018.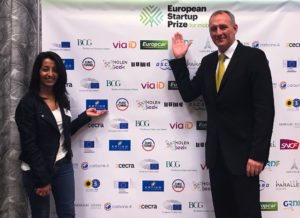 In addition to this tour, 4 finalists will be selected by the jury to each receive 4 months of dedicated business and legal coaching to expand their operations in other European countries.
ERTICO – ITS Europe is proud to be one of the partners supporting this initiative. Jacob Bangsgaard, ERTICO's CEO, was present at the launch with Karima Delli, Ecologist MEP and President of the Committee on Transport and Tourism of the European Parliament, and Andrus Ansip, European Commission Vice-President for the Digital Single Market.
Don't miss the opportunity to take your startup to the next level!
Opening: November 7
Closing: January 8, 2018