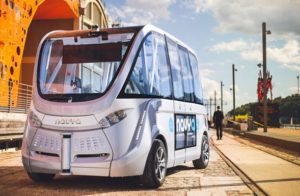 In the context of the 12th ITS European Congress in Strasbourg (19-22 June), the Eurodistrict Strasbourg-Ortenau has issued a call for expression of interest for the Cross-Rhine Driverless Shuttle Challenge.
The Challenge was planned to introduce driverless shuttles as a public transport to all citizens in the Eurodistrict Strasbourg-Ortenau, and to be officially publicly presented at the ITS Congress.
The Challenge wants to prove to the users the value of a driverless shuttle service, its safety in open street traffic, and the degree of maturity of the involved technologies. This Challenge is one of the two cross-border projects within the French-German Initiative for electric and digital mobility initiated by M.Alexander Dobrindt, the German Federal Minister for Transport and Digital Infrastructure and M.Alain Vidalies, the French State Secretary for Transport, Fisheries and the Sea.
The selection committee has received 2 expressions of interest for the Challenge, and one has been selected. The French company NAVYA, in partnership with Keolis, is the only one that successfully met all the requirements of the Challenge based on both countries public transport standards.
In the next phase of preparation for the Challenge, the Strasbourg Transport Company, CTS, and the cities of Kehl and Strasbourg will choose together with NAVYA the best route for the driverless shuttle. This route will be approximately 2km long, connecting the territories of Kehl and Strasbourg, crossing the Rhine River using the existing foot and bicycle bridge. Also, NAVYA is entering the phase of obtaining the authorisation for driverless shuttles from the both sides of Rhine.
This Challenge will trial, for the first time, an ephemeral service to the public; the public will also have the chance to evaluate this unique service through multi-criteria evaluation form. This will be the time to imagine the transport of the future.