A new book on Evaluation of Intelligent Road Transportation Systems is now available here. The development of this publication has been led by Meng Lu, who is Vice President of IBEC (ITS Benefits Evaluation Community) and of the IEEE Intelligent Transportation Systems Society (ITSS).
The book also reflects the valuable feedback provided to Mrs. Lu by ERTICO Partners and the ERTICO Office.
About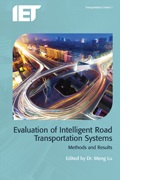 Intelligent Transport Systems (ITS) use information and communications technologies (ICT) to deliver transport improvements instead of extending physical infrastructure, thereby saving money and reducing environmental impact.
The book provides an overview of ICT-based intelligent road transport systems with an emphasis on evaluation methods and recent evaluation results of ITS development and deployment.