COREALIS Final Conference
April 23, 2021 @ 10:00 am

-

3:00 pm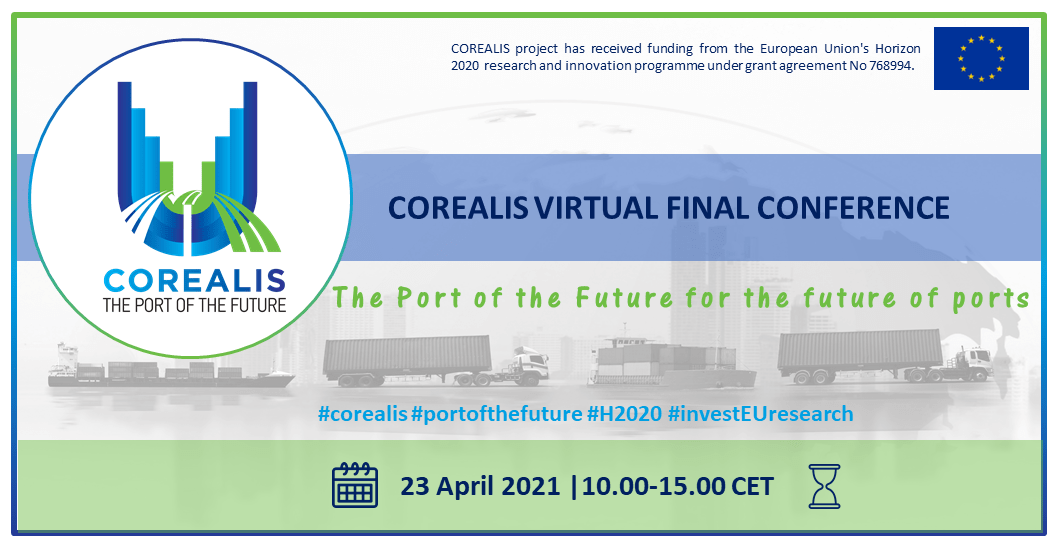 In light of COVID-19 breakout and related containment measures, COREALIS team decided to turn the physical COREALIS Final Event into a Virtual one as to secure all participants' safety and health.
Started in May 2018, COREALIS worked towards the vision of the Port of the Future by proposing a strategic, innovative framework, supported by disruptive technologies, including Internet of Things (IoT), data analytics, next generation traffic management and emerging 5G networks, for cargo ports to handle upcoming and future capacity, traffic, efficiency and environmental challenges.
With a total budget of 5.1 million Euros funding by the European Commission, 17 partners from 10 European and associated Countries worked together from 2018 to 2021 and joined their expertise to contribute to the vision of a more environmentally friendly, socially sustainable and financially viable port of the Future.
The proposed beyond state-of-the-art innovations, targeted to increase efficiency and optimize land use, while being financially viable, respecting circular economy principles and being of service to the urban environment. These innovations were implemented and tested in real operating conditions in 5 Living Labs, namely Piraeus port, Valencia port, Antwerp port, Livorno port and Haminakotka port.