DATEX II User Forum
September 13, 2016

-

September 14, 2016
.
.
.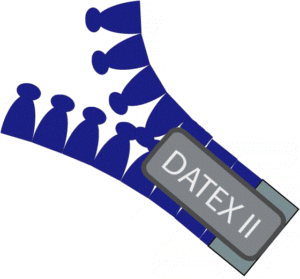 Why you should go?
Two busy days to learn more about DATEX II on every level, whether you are a manager, architect or programmer, road operator, EU officer or a service provider, a rookie or a geek. Everyone can participate and take the stage.
The opportunity to strengthen your network at the forum and the social event. Learn who is who. See the new faces on the bloc. Find out who can help you or whom you can help.
More than 50 slots available to share your thoughts on and experiences with DATEX II and demonstrate your results with DATEX II.
10 interactive sessions to explore the deep end of specific subjects:

Technical sessions on DATEX II and C-ITS solutions, urban context, open data source, automated driving, personal navigation
A discussion panel with the new Stakeholder Advisory Board
A future session, imagine what the world looks like in 2040.
A European session on the existing and future delegated acts, subsidies and current deployment
The famous hands on sessions, getting your hands dirty and work on your DATEX II programming skills

A chance to win a DATEX II award and definitely the opportunity to vote for the best presentations.
And all is set in the beautiful surroundings with the tranquility of Trinity College and the excitement of the bustling city centre of Dublin.
Want to participate? Of course you do! Please click here.