Digital Mobility Solutions Conference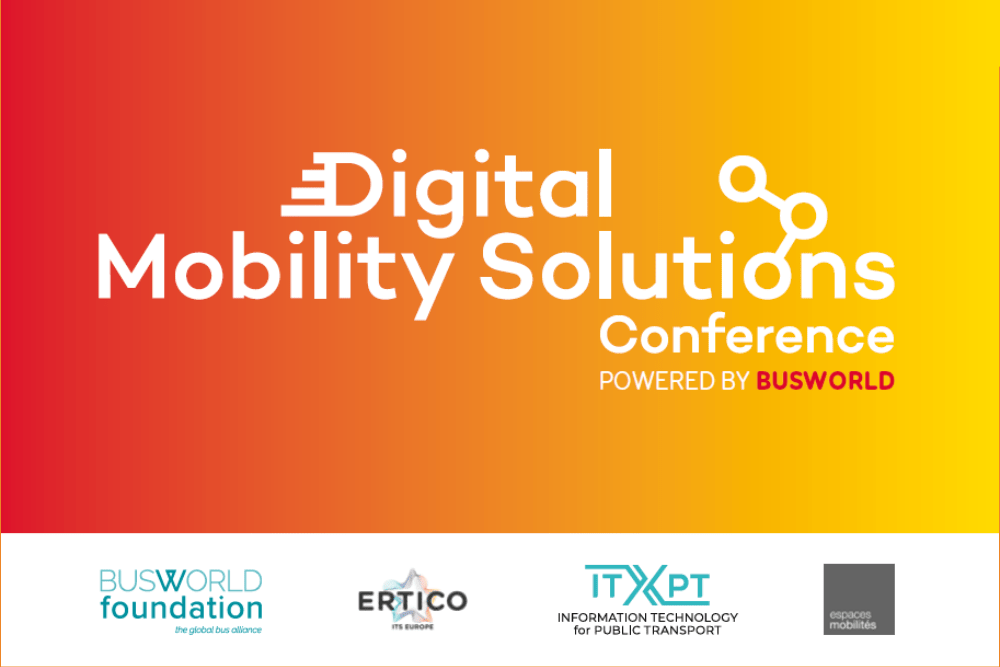 ERTICO – ITS Europe and BUSWORLD FOUNDATION partner in the DIGITAL MOBILITY SOLUTIONS Conference on October 11th at Busworld Europe in Brussels. The goal is to bridge the gap between ERTICO's members and the European bus manufacturing & bus Operating industry.  The program will focus on MaaS applications, Telematics, Smart Energy Management, Adas & Autonomous Buses.
Confirmed participants come from Daimler, Van Hool, ABB, De Lijn, MaaS Alliance, Keolis, Optibus, DG MOVE, DG Research & Innovation, Adastec, Karsan, Espaçes Mobilitées, Heliox, PSI, RUTER, …
The day will kick-off with a warm welcome and insightful policy discussions led by distinguished speakers from Busworld Foundation, ERTICO – ITS Europe, and the European Commission. Following this, the focus shifts towards the next generation of public transport concepts, emphasizing digitally supported and executed models that propel urban and long-distance travel into a new era of efficiency and sustainability. Noteworthy presentations on Mobility-as-a-Service (MaaS), digital ticketing platforms, and digitally coordinated multimodal public transport are set to captivate the audience. The morning session also includes a lively panel debate featuring key industry players from Belgium, France, Israel, Brazil, and Sweden.
After the morning, attendees will have the opportunity to network over a well-deserved coffee break. The event then resumes with a deep dive into Digital Operational Excellence through Telematics. Expert speakers and panelists will explore how vehicles are tracked, analyzed, and remotely controlled, leading to significant improvements in quality, safety, and cost efficiency. The afternoon session will also be dedicated to Smart Energy Management in Electric Buses, a critical topic in today's evolving transportation landscape. Presentations from European Commission officials and industry leaders will highlight the importance of energy control for bus operators, particularly in the context of fluctuating electricity prices. Panelists will share insights on energy-saving strategies from Norway, the Netherlands, Switzerland, the United States, and the United Kingdom.
As the day progresses, the spotlight turns to Digitally Enhanced Driving, with a focus on Automated Driver Assistance Systems (ADAS) and autonomous bus services. The session will provide firsthand testimonials from those involved in deploying autonomous buses on public roads, shedding light on challenges, incentives, and collaboration efforts between OEMs and technology providers. The event culminates with the announcement of winners for the inaugural Busworld Digital Awards. Recognizing achievements in Digitally Enhanced Driving, Digital Operational Excellence, E-mobility Management, and Digital On Board Comfort, this ceremony is set to honor industry leaders who have demonstrated exceptional contributions to the field.
This event, a testament to the innovative spirit of the industry, promises to be a day of learning, networking, and inspiration for all involved. With a diverse range of topics and a stellar lineup of speakers, it is poised to leave a lasting impact on the future of public transport. Access the full agenda here.
When: Wednesday 11 October 2023 between 9:30 and 17:00
Where: Brussels Expo – Meeting Center Hall 11, Level 3, Room 1122
By registering for this event you do not yet have a ticket for Busworld Europe. Register your Busworld ticket here.
Be part of the driving force shaping the future…