ENSEMBLE Final Event
March 17, 2022 @ 10:00 am

-

3:30 pm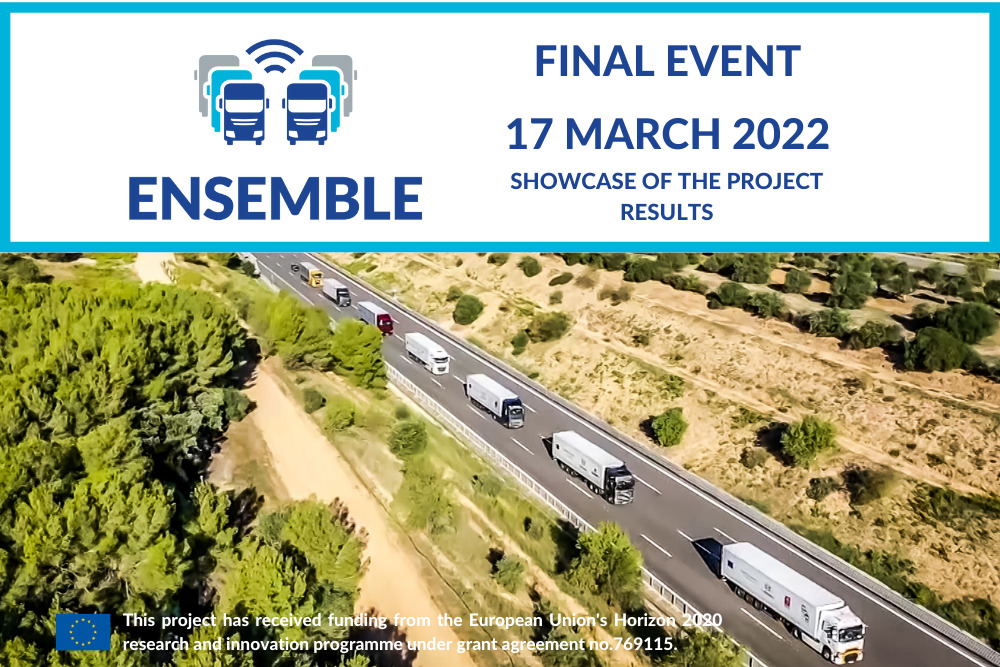 One of ERTICO's flagship projects is coming to an end in 2022!
ENSEMBLE project final event is planned for Thursday, 17 March from 10:00 to 15:30.
Due to the current COVID-19 restrictions for public events in force in Belgium, the final event will be live-streamed and participants can join the discussion online.
The main goal of the ENSEMBLE project is to pave the way for the adoption of multi-brand truck platooning in Europe to improve fuel economy, traffic safety and throughput. Trucks in a platoon are driven by smart technology and communicate mutually. Truck Platooning is innovative and full of promise and potential for the transport sector.
The final event will be an occasion to discuss the results and achievements of the project with high-level experts and speakers.
Visit the ENSEMBLE event page to discover the agenda and the speakers of the day!
Click here to register. 
This project is co-funded by the European Union under the Horizon 2020 Research and Innovation Programme (grant agreement No 769115).