ERTICO Projects at TRA Conference 2022
November 14, 2022 @ 8:00 am

-

November 17, 2022 @ 5:00 pm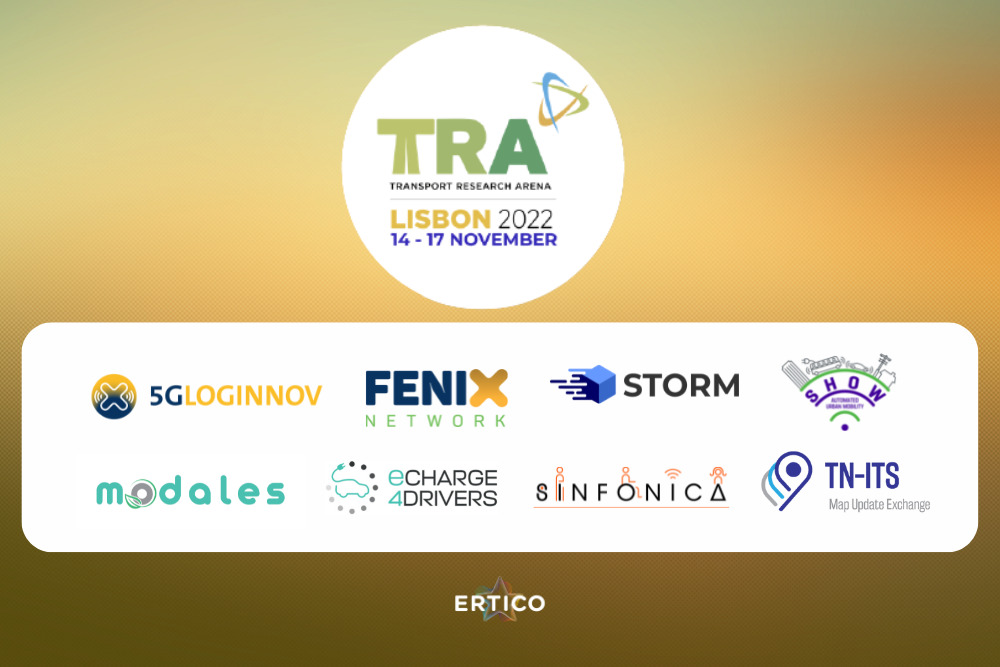 Beyond the presence of ERTICO CEO Joost Vantomme at the upcoming  Transport Research Arena (TRA) Conference in Lisbon on 14-17 November, eight of the ERTICO initiatives will actively participate in the exhibition space as well as the Conference programme. As the largest European research and technology conference focusing on transport and mobility, the event presents a great opportunity to showcase the projects' results, and lessons learnt.
On the first day, Monday 14 November, Mr Vantomme will participate in Session 1.3 on Artificial Intelligence (AI)  for Smart and Sustainable Mobility, which takes place from 15.15 to 16.30. Join the discussion to hear more about the (potential) roadblocks and enablers of AI, but also questions on the current state of development and application of AI in mobility and transport as well as its benefits and opportunities.
Learn about the ERTICO Projects at TRA
STORM, one of our core projects within ERTICO's logistics focus area, will be presented at the ALICE booth, where project partners will discuss STORM and other EU projects.
Another project belonging to the transport and logistics focus area is 5G-LOGINNOV, which will have a booth at the ALICE stand. By visiting it you can discover more about the project's three living labs in Athens, Hamburg and Koper and their several use cases. On Monday 14 at 13:00, don't miss the seminar at ALICE's Innovation Theater on the project's business models and market opportunities led by 5G-LOGINNOV's partner, ICOOR.
If data sharing for the logistics community is what you are interested in, the FENIX booth at the ALICE stand is what you are looking for. Join the FENIX session on Wednesday 16, from 17:00 to 18:00/18:30 at the ALICE theatre to discover what the FENIX project has to offer to the logistics actors across Europe.
Discover more about MODALES, one of ERTICO's "Clean & Eco Mobility" projects, at the joint Invited Session "Reduction of transport impact on air quality" on Tuesday, 15 November, from 08:30 to 10:00. The session will discuss the experiences and results of MODALES and similar EU-funded projects and will explore new tools and methods to decrease emissions of the current fleet of vehicles, vessels, and aircraft.
eCharge4Drivers, another project in our "Clean & Eco Mobility" focus area, will also participate in a joint Invited Session on "User-centric and smart charging solutions for future-proof electromobility" on Monday 14 November, from 17:00 to 18:30 in Room 5C. Two papers will also be presented at TRA: "E-driver, what about your charging infrastructure? A large-scale European study on charging habits, perceptions, concerns and expectations" and "Development of Smart Charging Scheduling and Power Management Strategy of a PV-ESS based Multiuser EV Charging Station". You can also find out more about the project at the joint exhibition booth with USER-CHI & INCIT-EV at the European Commission stand.
If you are interested in CCAM, find out more about one of the newest ERTICO projects, SINFONICA, which focuses on accessibility and inclusivity of CCAM solutions, at the Invited Session 62 "Making CCAM a smart solution for society" on Tuesday 15 November from 15:00 to 16:30.
Included in our "Urban Mobility" focus area, the SHOW project will have a prominent presence at the congress. The consortium members will participate in several activities, including various sessions and technical papers, to present the project's latest updates and participate in the discussion of automated driving in public transport. SHOW will have a permanent representation at the UITP Stand, the project coordinator, where VIF, RISE and IOKI will present the video simulations related to the test sites, the project's dashboard and the passenger's book app, respectively.
Finally, ERTICO multi-stakeholder innovation platform TN-ITS also participates in the Transport Research Arena, presenting a paper on the initiative's Technical Specification.