EU Drone Days: Commission's Drone Strategy 2.0
November 29, 2022

-

November 30, 2022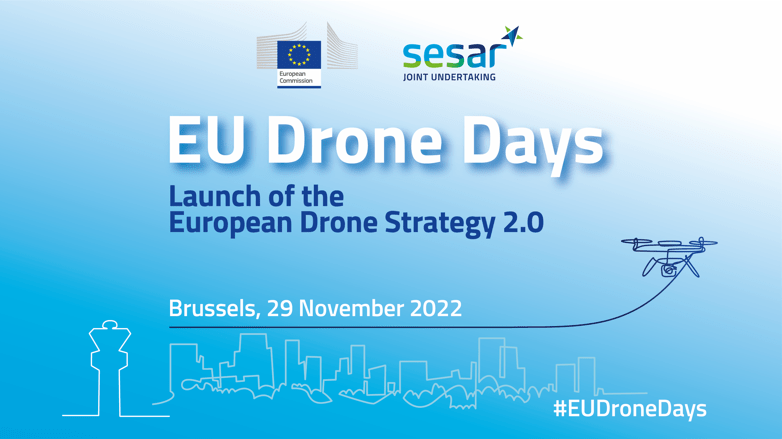 The Directorate General for Mobility and Transport (DG MOVE) and SESAR 3 Joint Undertaking are organising this year's edition of the EU Drone Days, taking place 29-30 November in Brussels. Throughout the event, participants will gain key insights into the European Commission's Drone Strategy 2.0., and discuss how ready the European drone sector is to make U-space a reality.
The EU Drone Days will kick off with the launch of the forward-looking European Drone Strategy 2.0, intended to foster the uptake of drone technology while ensuring safety, security and social acceptance. Panel discussions with industry and policy experts will examine the areas covered by the Strategy, including innovative air mobility and aerial services and strengthening European civil, security and defence industry capabilities. European Commissioner for Transport Adina Vălean, and Director-General for Mobility and Transport Henrik Hololei will speak at the event. Participants can also enjoy an exhibition of the latest industry innovations in urban air mobility and SESAR 2020 U-space projects on the second day of the event.
"ERTICO – ITS Europe with interest follows the eagerly anticipated release of the Drone Strategy 2.0 at the upcoming EU Drone Days event in Brussels later this month. The ever-expanding and ever-so-exciting futuristic urban mobility space will now have de facto its third dimension, and people's and good's journeys will have a new axis in the multimodal consideration in both planning and operational sense. We at ERTICO consider Urban Air Mobility (UAM) as a complementary transport of smart mobility in smart cities in the context of responsible innovation for sustainable and integrated urban mobility, and it should be perceived as part of the wider Mobility Network Management (MNM) concept. It builds on the experience of pioneering European cities and regions that have been involved early on with the topic of urban air mobility. It follows with the description of city- and region- cases in dealing with the topic of UAM in the context of supporting their urban and mobility policy goals. With the publication of the formal strategy prepared to address these challenges, the European Commission brought us one step closer to what once was thought to be science fiction is now an operational reality."
Find more information about the EU Drone Days.