Highways England Hackathon I Milton Keynes
February 8, 2020 @ 11:00 am

-

February 9, 2020 @ 3:00 pm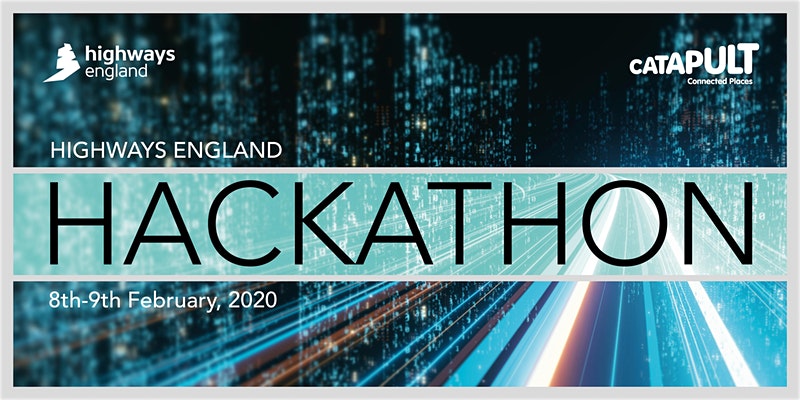 The Connected Places Catapult has joined forces with Highways England to unlock the value of data on the UK's Motorways in an intense 2-day hackathon.
We'll provide a wealth of data from traffic flows, accident information to the location of every piece of hardware on the network. Competitors will be asked to find ways to aid decision making & planning, improve safety, provide a better service to road users and find new ways to reduce disruption from maintenance.
At the end of the event a panel of judges, including senior decision makers at Highways England will pick the best idea based on a pitch presentation from each team. They'll be looking for:
Solutions that combine different models and/or data to:
Improve safety on the network (for instance predicting or reducing the likelihood of accidents)
Optimise delivery of asset maintenance or major works
Provide improved service to road users
Solutions which find new and consistent ways of digitalising and tracking multiple HE assets to:
Provide better insights to the leadership team
Help assess the impact of planned works or design changes
Deliver efficiency savings across road operations (i.e maintenance schedules)
You can check out the information briefing to help you shape your solutions for the best chance to win!
Who?
Teams of up to 5 can participate. You are welcome to form teams beforehand or join up on the day!
Our aim is to have a number of perspectives, so SMEs, Start-ups, Academics, Students and Hackathon Pros are all welcome. We'll need coders, data visualisers and data scientists, innovators, business strategists and planners to help us make the most of all the lovely data we have!
What we'll provide
Food, drink and entertainment throughout the event
Space to work throughout the 24hrs (including over-night!)
Access to mentors from Highways England and the Connected Places Catapult
Free Wifi
Access to data
What you'll need
Your own computer equipment
Potentially a sleeping bag and overnight supplies!
What we expect from you:
Aside from new ideas and fresh perspectives we expect you to respect the other participants:
Do not use expressions that incite violence or forms of discrimination, obscenity, or defamation;
Avoid content that is offensive, vulgar, defamatory, or that violates privacy or is otherwise against applicable law, as well as advertising content or content that concerns political or religious views or other such ideologies;
Avoid developing applications that are clearly off topic compared to the assigned challenge;
Do not violate copyrights, trademarks, or other such rights;
Observe data-protection legislation.
Other than that, have fun and show us what you can do!
Register here.